New Music From The Inbox – Monday Edition! (Dec 30, 2019): Best of 2019!
You know what time it is. You know what this list is for. You know how this works. No need for pomp nor circumstance – without further ado, here are some of the best tunes that came through the Monday Edition of the Inbox in 2019:
1. Artist: Desert Sessions
Song: "Crucifire"
Album/EP: Volume 12: Tightwads & Nitwits & Critics & Heels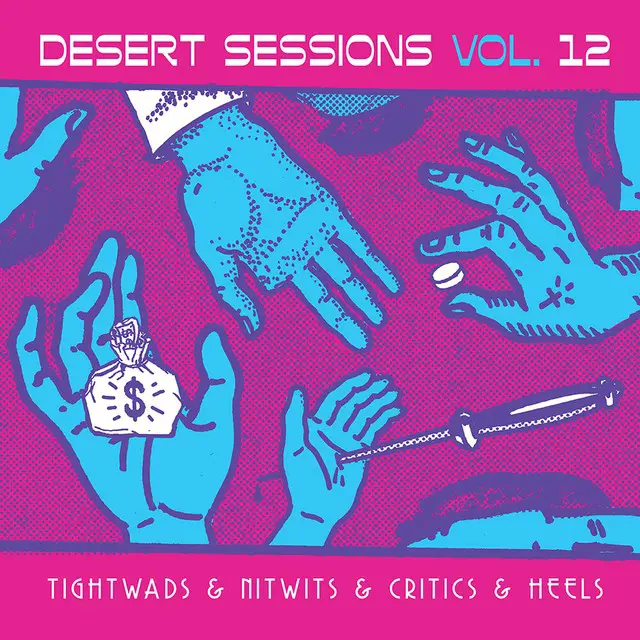 What I originally said: Produced by Josh Homme and performed by a rotating collective of rock all-stars (there are just too many to name), the world has been blessed with another set of songs from the heat-of-the-desert assembly known as Desert Sessions and "Crucifire" is example number one: irresistibly catchy riffs, crunchy and sand-blasted tones, momentous falsettos, and just the right amount of rock stardom swagger to reel you in for this replay-rife ripper.
What I say now: It's catchy. It's confident. It's quick. But most importantly, it's memorable as hell. The rest of Desert Sessions Vol. 12 has some solid tunes in it, but "Crucifire" is the real standout of the bunch. Is it because it sounds the most like Queens of the Stone Age? Quite possibly – that guitar tone isn't just created in a vacuum, after all. Is it still fantastic in its own right? Abso-goddamn-lutely – the falsetto hooks and stuttering start will lodge in your brain for hours after listening and you'll love every moment of it.
Watch/Listen: 
2. Artist: The Drew Thomson Foundation
Song: "Phone Ring"
Album/EP: The Drew Thomson Foundation
What I originally said: Peppy yet measured pop rock with an immediately catchy riff and an expansive, reflective chorus to keep steady, "Phone Ring" is an excellent single from The Drew Thomson Foundation's just-announced self-titled. Wandering guitar and bass lines off the top of the tune often give way to collective stomping eighth-notes, adding to the emotiveness of the lyrics.
What I say now: Drew Thomson's pedigree with local punk legends Single Mothers forged him into quite the capable songwriter, and that thoughtful flair is on full display – albeit a bit more sensitively and less chaotically – in "Phone Ring". Don't get me wrong, the entire self-titled record is super solid, but this tune especially just has that extra kick of earwormy pop that takes it over the top. Balanced with its hopeful melodies and that intriguing riff that grabs you right off the top, this single easily claimed a spot in my heavy rotation.
Watch/Listen: 
3. Artist: Indoor Pets
Song: "Pro Procastinator"
Album/EP: Be Content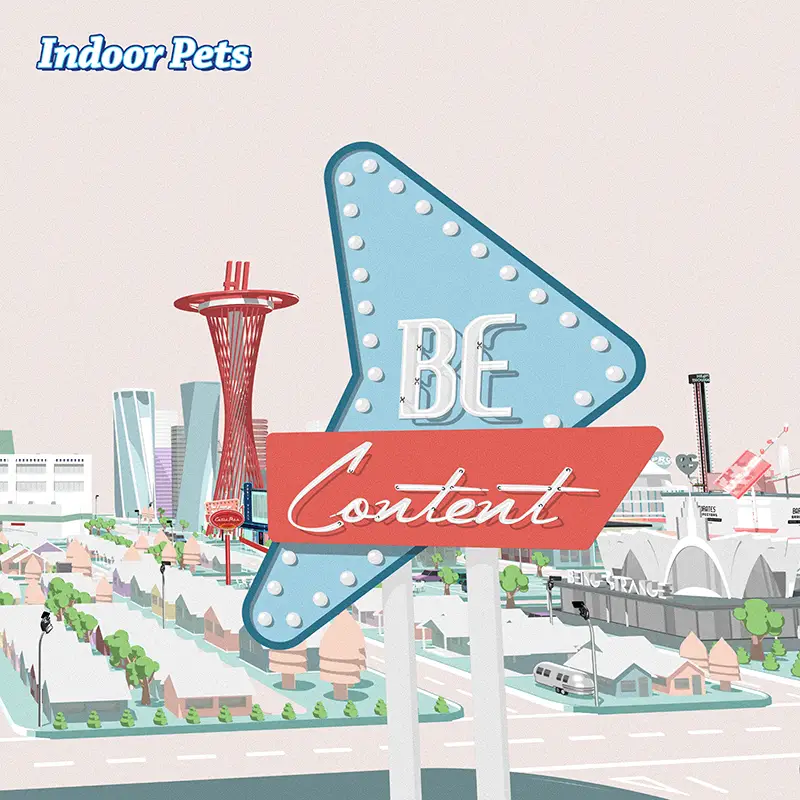 What I originally said: High-energy power pop with clever moments of fresh variance and a hook that is challenging to best, "Pro Procrastinator" is a hell of an introduction to Indoor Pets. Broken up into chunks that help make the potentially overwhelming track digestible and complex while still providing plenty of pounding drums, snotty vocals, and crashing chords, there's lots to love for listeners of varied schools of thought. Like gang vocals? You're covered. Looking for a shoegaze-y bridge? Included. Just feel like thrashing along to one of the most relatable songs you may ever hear? Come on in.
What I say now: "I'm wasting my / Lii-ii-ii-ii-ii-ife" is too perfect to not sing along to. Indoor Pets really knocked it out of the park with this power pop banger: the instrumentals are tight, the energy and mood are way up, and those damned lyrics are absolutely pleading to be hollered along with. This tune came through the Inbox in late January of this year and never left my personal heavy rotation, it's just that catchy. Or maybe I just relate too strongly with "I'm a pro procrastinator / I ain't bad, I'm just another damaged good".
Watch/Listen: 
4. Artist: John Van Deusen
Song: "Social Sucker"
Album/EP: (I Am) Origami Pt. 3 – A Catacomb Hymn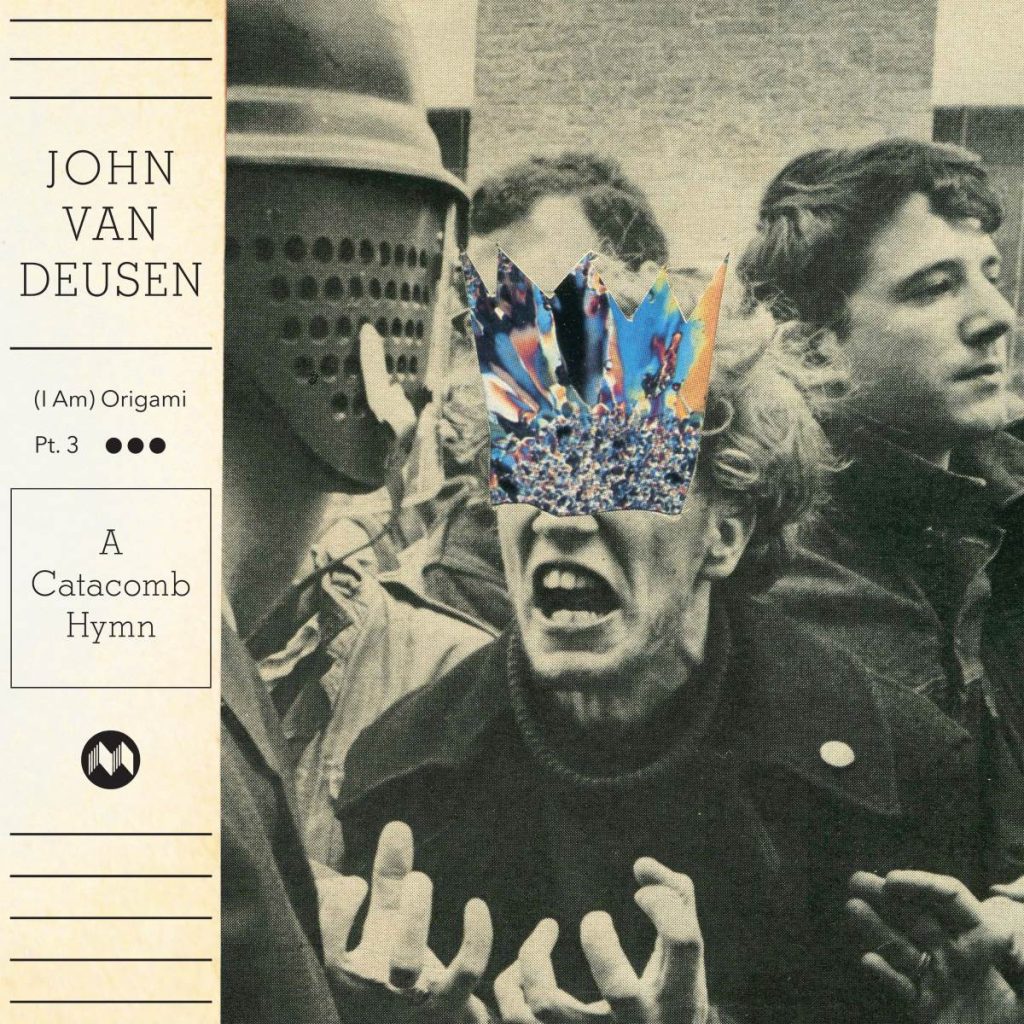 What I originally said: Catchy and lofty indie rock with disarmingly stilted phrasing and hooky existential gang vocals, "Social Sucker" is about as effectively applied as indie rock can get. Focused lyrics, cavorting guitars, polished production, and just enough variance to keep things interesting while staying light on its feet – plus earworm-y as hell choruses – make for a neat little introspective ditty.
What I say now: You might be noticing a trend here: I tend to like catchy, quick indie rock tunes with some piercing falsettos, pounding drums, and the occasional – nay, as often as possible – gang vocal. And big surprise, "Social Sucker" ticks all those boxes. John Van Deusen sounds like he's fed up and has a bone to pick, and while that can often lead to whiny songwriter syndrome (which I have to admit I'm also partial to, I grew up listening to 90s and 00s pop punk after all) this song finds Van Deusen on the aggressive instead. With hooks. Of the musical variety. I'm saying John is attacking his social-sucking friends with earworms, OK? I'm running out of synonyms for 'catchy' and my metaphors are lacking at the moment.
Watch/Listen: 
5. Artist: The Bobby Lees
Song: "GutterMilk"
Album/EP: Single
What I originally said: Breathless and chaotic garage punk that just about wears the band out within its blistering ~90 second runtime, "GutterMilk" is an electric statement of a single from Woodstock's The Bobby Lees. An exceptionally thick bass tone and tinkling baby piano feature atop vocalist Sam Quartin's sprawlingly emotive performance.
What I say now: There were quite a lot of songs that were close calls for this final position on the best-of-2019 list, but The Bobby Lees' "GutterMilk" is the ultimate entrant thanks to its flashes of standout uniqueness. Garage punk is nothing new and neither is an exceptionally thick bass tone, but paired with the aforementioned baby piano and Quartin's breathless yelping that verges on desperation gives you a ripping little tune that really flexes its mini-yet-mighty muscles. It also helps that the mental image of smashing a baby piano after a killer set really gets me going.
Watch/Listen: