Paul McCartney to Offer Free Tickets to Lac Megantic Survivors for Tonight's Show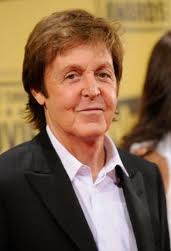 Macca has a show on the Plains of Abraham tonight (Tuesday, July 23). He's extending this offer to the people of Lac Megantic in hopes this will give them a brief distraction from the tragedy.
From the Globe and Mail:
Quebec provincial police believe 47 people were killed in the July 6 disaster. About 2,000 people were forced to flee the area, although most have been allowed to return home.
McCartney's "Out There" tour will take him to the historic Plains of Abraham in Quebec City. He previously packed the site in 2008 as part of celebrations to mark the provincial capital's 400th anniversary.
Luci Tremblay said 1,000 tickets had been set aside, and about 900 people took up the offer. About 10 buses were also donated in the Lac-Megantic area to bring them to the show.
"We gave them 1,000 tickets but in our mind, if 200 persons want to come, or 400 or 600, the important thing for us was they can do it, no problem," said Tremblay.