Photos from the side stages at Ottawa Bluesfest 2023
[Yet another report from Ross MacDonald. – AC]
Not all the action at a music festival happens on the main stage in prime time. And Ottawa's Bluesfest is no exception to that rule, with numerous indie and alt-rock bands performing on the side stages or opening for the headlining artists. Today we are taking the opportunity to go back to the first four days of Bluesfest and visit some of these alt-rock gems.
On Friday 7 July, alt-rock fans had to make some tough decisions. There was a very strong lineup on the mainstage with PUP, Billy Talent, and Weezer. However, there were two notable artists playing side stages.
Firstly the Juno award winning duo Digging Roots performed a moving set with intricate guitar work from Raven Kanatakta accompanying ShoShona Kish's hauntingly beautiful vocals.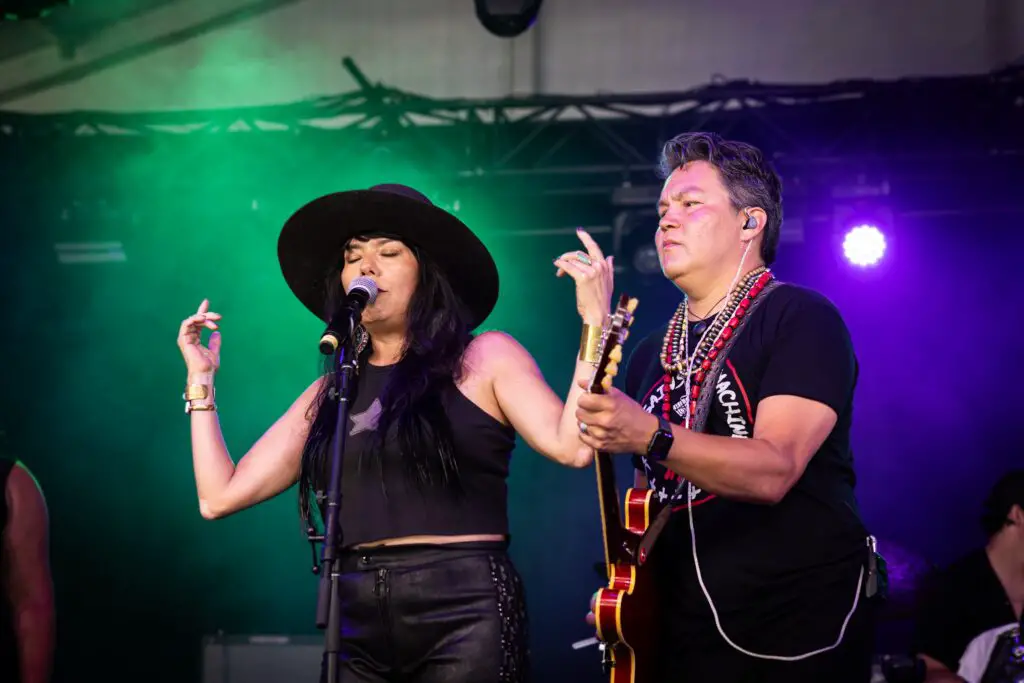 Digging Roots have a couple of Ottawa connections. Kish teamed up with Ottawa's Amanda Rheaume to create Ishkōdé Records, a record label owned and run by two indigenous women, featuring indigenous artists.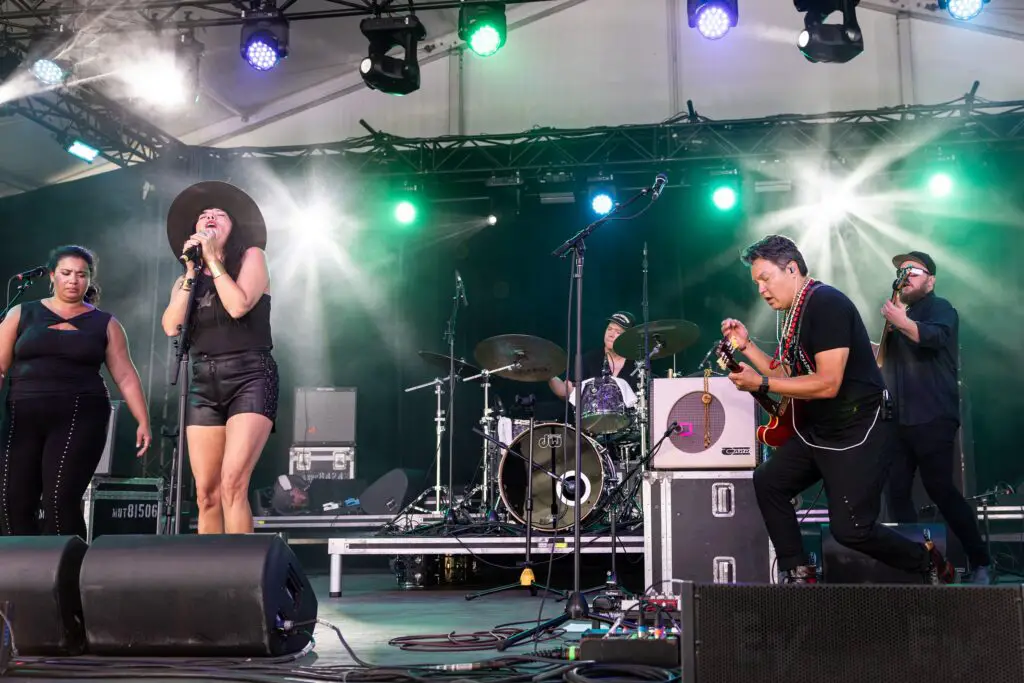 In between songs Kish also mentioned that she met Raven in Ottawa. It was fascinating witnessing Kish's vocals while Raven moved around her, and the stage; their connection was palpable.
And the tough decisions continued into the headliner slot. On the main stage was Weezer, but on the side stage was the Grammy award winner Thundercat. Thundercat played several songs from his Grammy-winning album 'It Is What It Is', opening with 'Lost In Space' and 'Innerstellar Love', and opening his encore with the title track 'It Is What It Is'.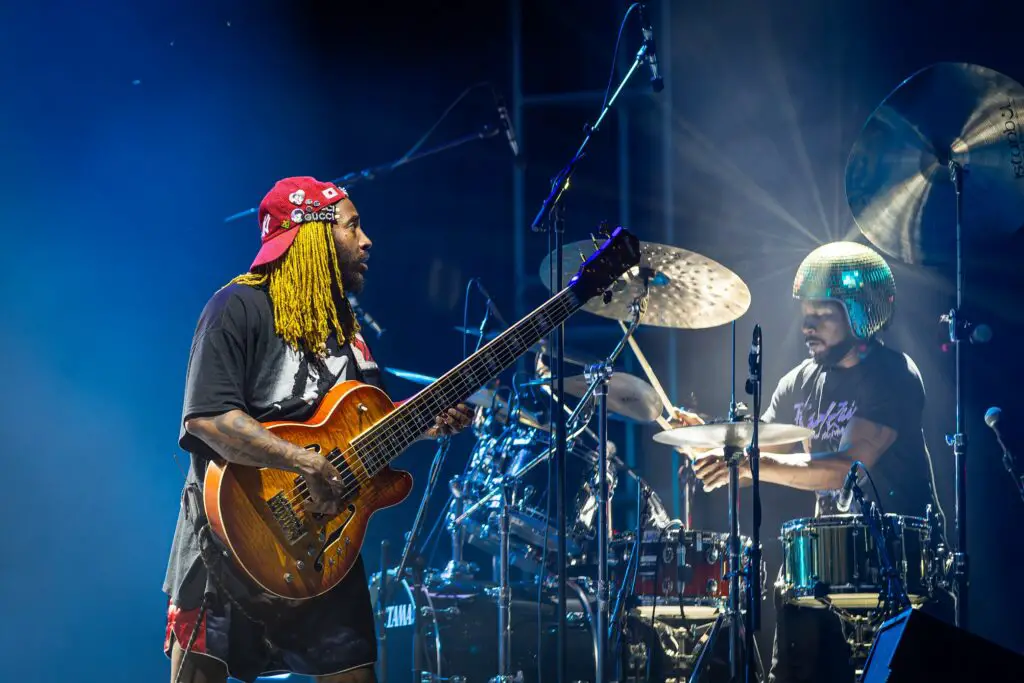 The performance was all action-packed energy closing out a hot summer night. Thundercat was playing his Ibanez six-string bass with a neck that stretched longer than some fishing poles (no idea how it can fit on his tour bus). And Thundercat may not have had Damon Albarn backing him up, but who has ever witnessed a drummer with a disco ball on their head? The packed audience loved the show!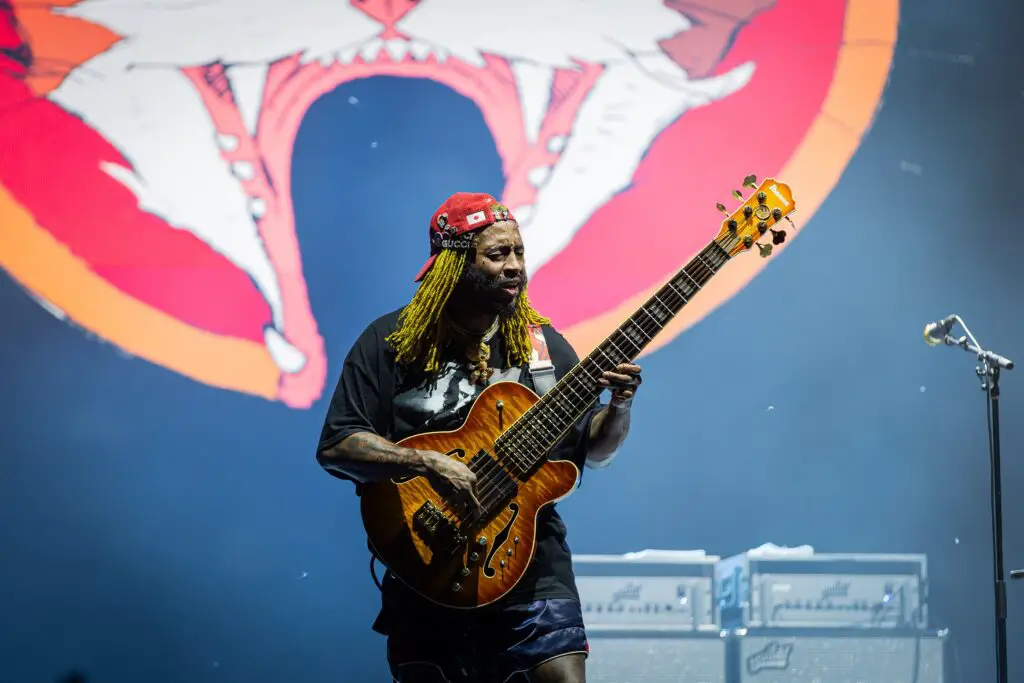 On Saturday 8 July, with Robert Plant & Alison Krauss headlining, the perfect pick for an opening act on the main stage was Canada's Juno award winning supergroup Blackie and the Rodeo Kings, fronted by Stephen Fearing, Colin Linden, and Tom Wilson. Don't be fooled by the name, this trio aren't crooning country songs, they are more folk-rock, with an emphasis on the rock.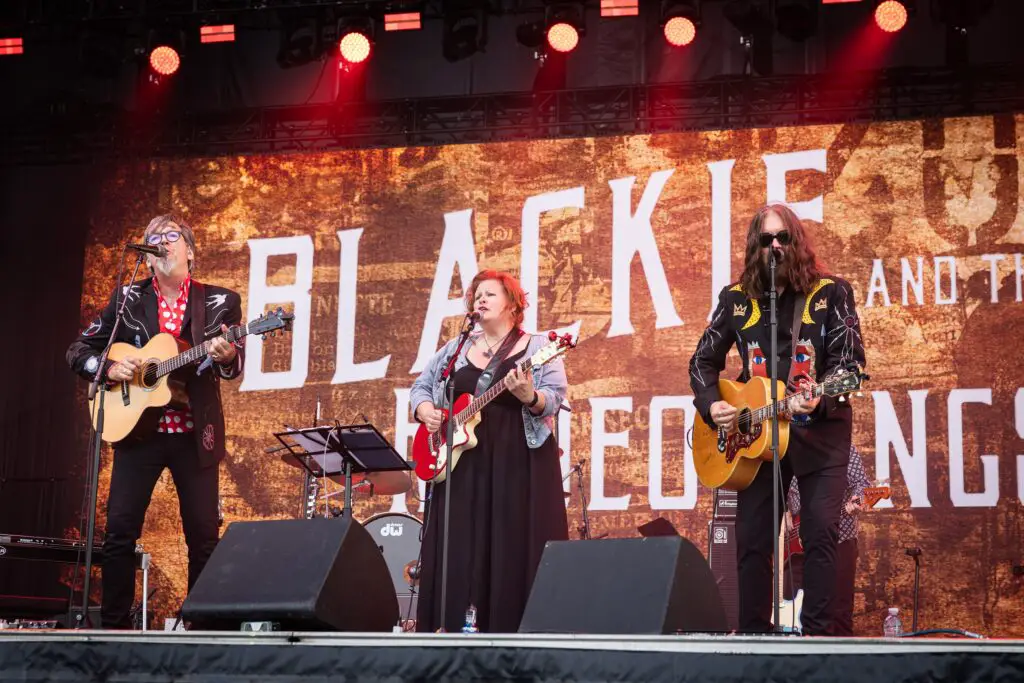 And not only did Blackie play their own hits, they brought out two special guests. Firstly blues singer Suzie Vinnick came out to sing a few songs, and oh my, what an incredible voice, stopping everyone in their tracks to take it all in.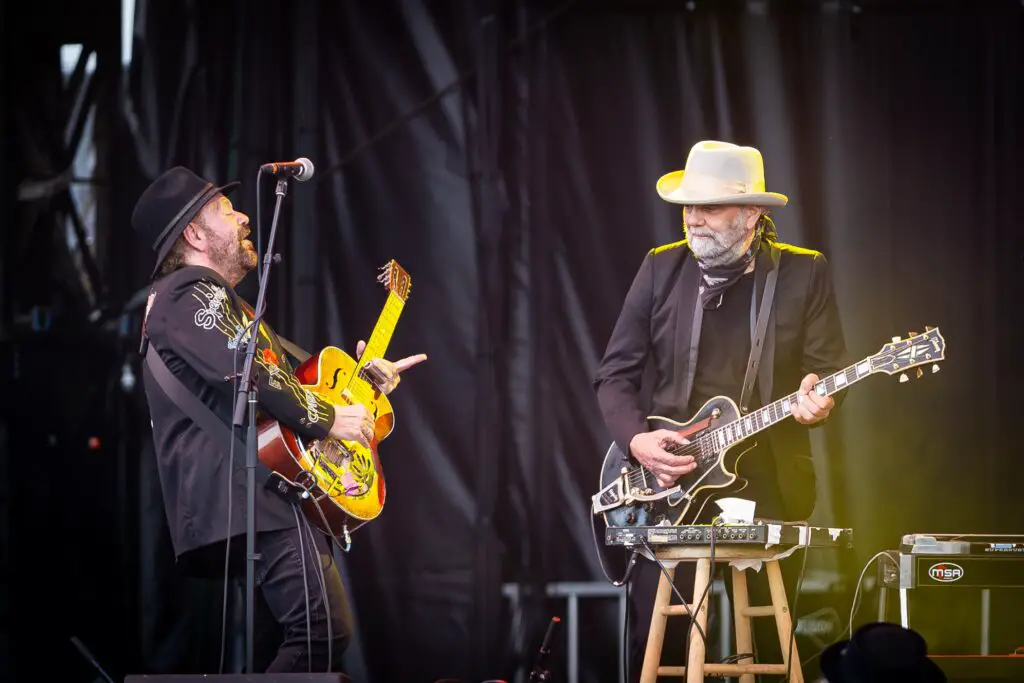 Next to join Blackie on stage was none other than legendary producer and musician Daniel Lanois, a native of Hull, just across the river from Ottawa. Overall Blackie and the Rodeo Kings put on one of the most memorable performances of Bluesfest.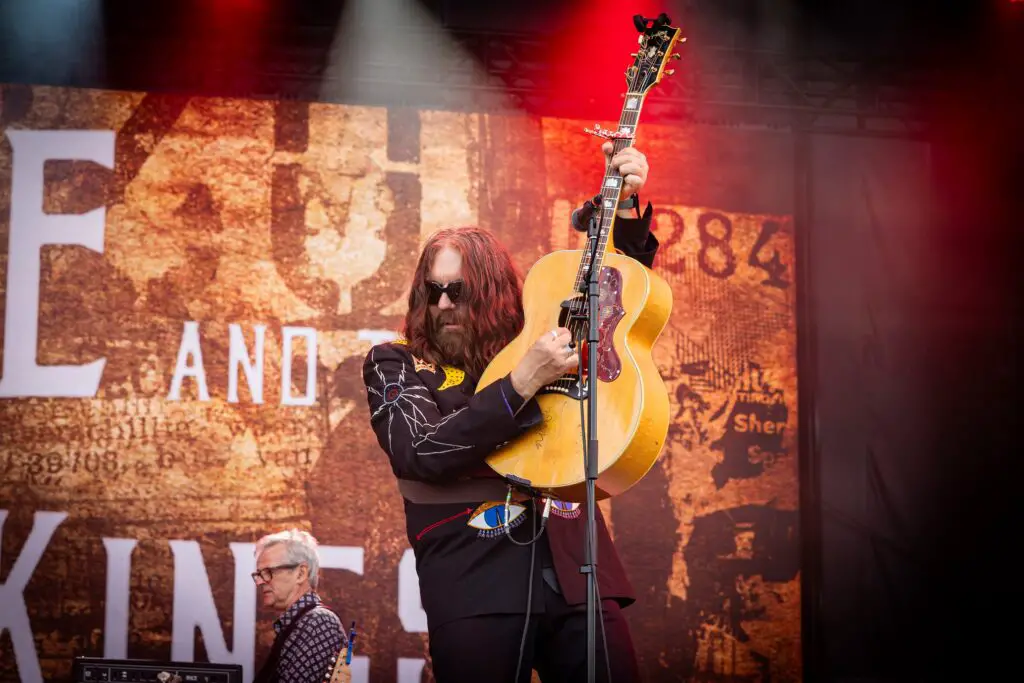 The final "side stage hidden gem" of the opening weekend of Bluesfest was Ottawa rockers Taming Sari. They were playing in a tent with little ventilation on a hot evening, but that didn't stop everyone from partying.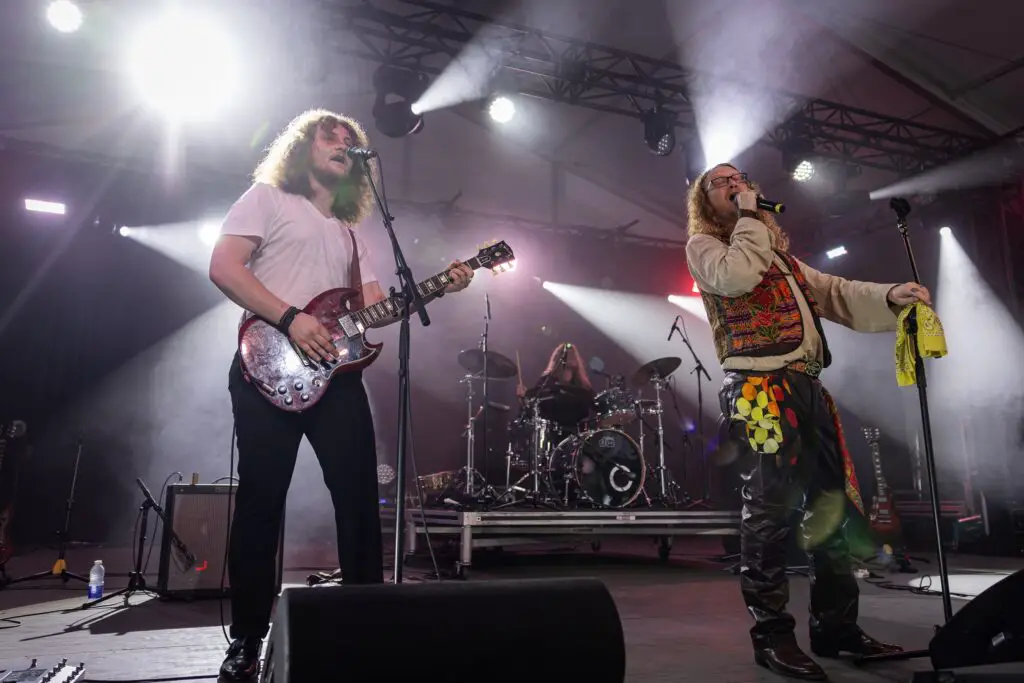 It was a high-energy show from start to finish with very animated band members and an interactive lead singer Warren Meredith. It is always refreshing to see talented young artists with a guitar-forward rock sound.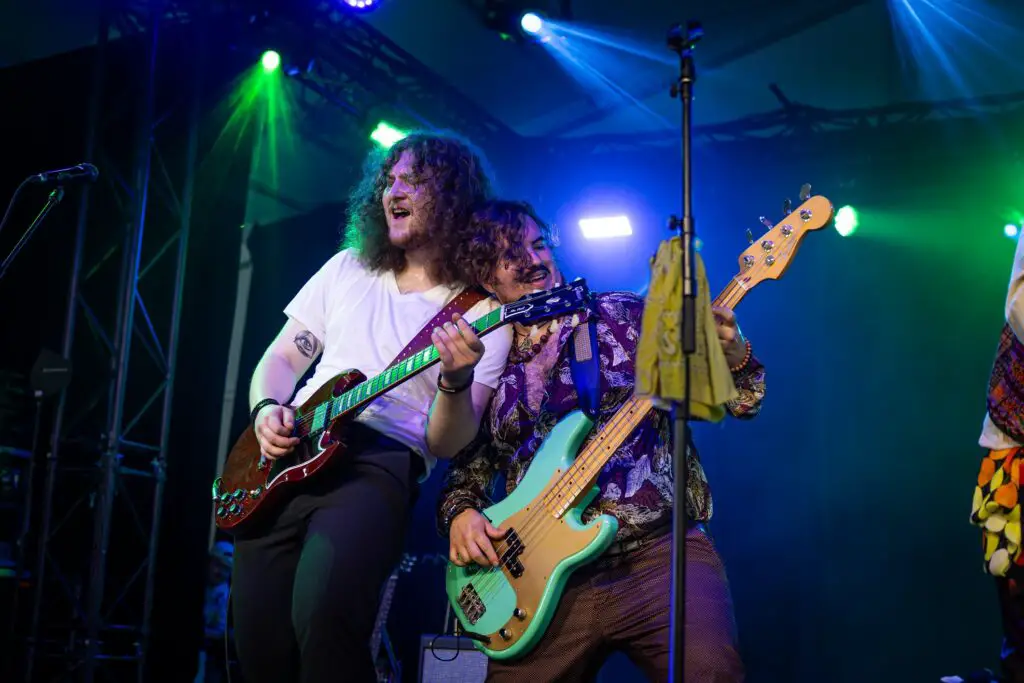 And after the show, the well-received band spent time chatting with their fans and taking selfies. We need more bands like Taming Sari.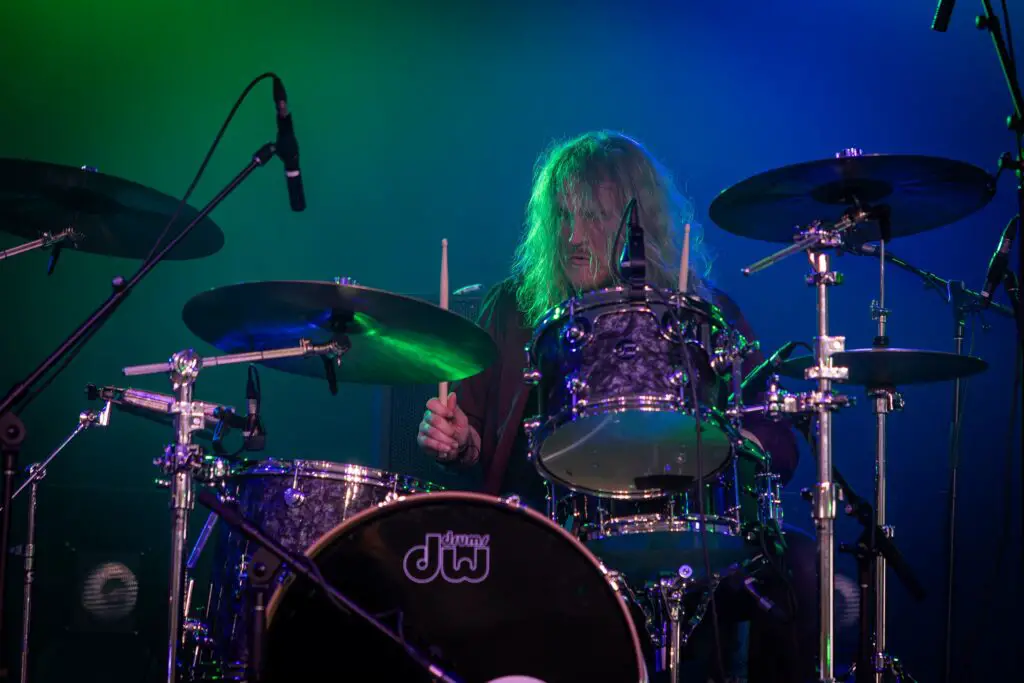 Stay tuned for a future article on the side-stage gems of the second weekend of Bluesfest.