Remembering Sam "The Record Man" Sniderman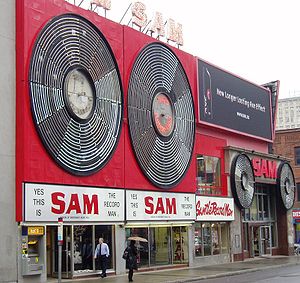 If you're a Canadian of a certain age, there's a 99% certainty that Sam Sniderman had something to do with your musical education. At one point, his Sam the Record Man stores made him the biggest record retailer in the country.
So ubiquitous were these stores that when people said they were off to buy music, they didn't say "I'm going to the record store." Instead they'd say "I'm going to Sam the Record Man."
At least that's the way it was for me growing up in Winnipeg. A Sam the Record Man store was stationed in malls at all the compass points.
I remember having an issue with a copy of Bachman-Turner Overdrive's Greatest Hits that skipped fresh out of the shrink wrap and exchanging it for a fresh one at the Unicity Mall store. (No questions asked, either!) I remember hearing Rumours from Fleetwood Mac for the first time on the store stereo at the Garden City Mall location.
When I moved to Toronto in 1986, one of the very first things I did was run down to Yonge Street to see the spinning records on the flagship store. I loved wandering through haphazard layout of the place. And like everyone else, I lined up at Christmas for the big sale with the stupidly low prices.
Sam Sniderman started selling records with his brother Sid out of the family's radio store in 1937. The Yonge Street store opened in 1959. The chain was at its peak in the middle 80s. That flagship store became part of the greatest strip of record stores in all of North America: Sam's, Music World, A&A, Virgin, Tower and a host of smaller indie stores.
Sam was a big supporter of Canadian music. Releases by Canadian artists were always easy to find in his stores. And chances are that if you were looking for some Canadian obscura, there would be one or two copies in the racks.
He was given the Order of Canada in 1976 and inducted into the Canadian Country Music Hall of Fame in 1997. He worked with the University of Toronto to create a special recordings archive. He was awarded honorary docotrates from both Ryerson and the University of Prince Edward Island. He's in the Canadian Music Industry Hall of Fame. He was given a Governor General's Award. He was involved in every manner of industry association.
But things started going south for Sam's empire at the end of the 20th century. The company filed for bankruptcy in 2001 but managed to recover after some savage cost-cutting. But with the rise of digital culture, they couldn't hold on. The big store at Yonge and Gould closed in 2007. The property was purchased by Ryerson University and the building demolished. Those spinning records signs are in storage somewhere.
It's hard to imagine how different Canadian music culture would be had it not been for this homegrown solution to music retailing. Our country was very fortunate to have a friend in Sam.
Sam Sniderman died in his sleep last night at the age of 92. He will be missed but not forgotten.