RIP Ex-Weezer Bass Player, Mikey Welsh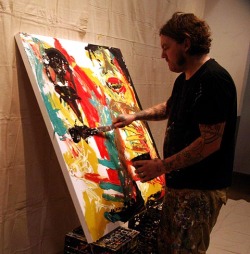 Mikey was an interesting guy.  He took over for original bassist Matt Sharpe and stayed with Weezer for a couple of years before suffering a nervous breakdown which he blamed on drugs, touring fatigue and a few unspecified things.
He left the band, got his act together and then launched a successful second career as a painter with his wife and kids in Burlington, Vermont.
He was staying at the Raffaello Hotel in Chicago,  When he didn't meet his 1pm check-out time, hotel staff when to his room where he was found unconcious and not breathing.  He was pronounced dead a short time later.  No cause of death was immediately apparent, although a drug overdose is suspected.  The Cook County Coroner's Office says they should have results by sometime Sunday afternoon.  
Mikey Welsh was 40. 
UPDATE:  In a super-freaky bit of prescience, Mikey tweeted this on September 26th.