RIP Rush's Neil Peart, dead of brain cancer at age 67.
Goddammit. The man was my drumming hero. And how he's gone.
I'd heard rumours that Neil wasn't well, including whispers that he had brain cancer. But ranks closed tight around him, despite the fact that he'd been sick for three-and-a-half years.
Neil died January 7 in Santa Monica, California. Brain cancer. This has been confirmed by his personal manager, Elliot Mintz and Meg Symsyk, Rush's media spokesperson. (We're not sure what kind of brain cancer, although there's chatter about glioblastoma, the same thing that killed Gord Downie. And what is it with glioblastoma and musicians?)
Fans knew that Neil had been suffering from arthritis, a very common affliction for hard-hitting drummers. That was the reason given for Rush packing it in after the end of the R40 tour in Los Angeles on August 1, 2015. We also know that he suffered from a bad foot infection during that final tour.
And it wasn't just that he'd retired from Rush, says Geddy Lee, but that he "retired from drumming."
Information on his illness is still forthcoming.
Peart was born in Hamilton on September 12, 1952, and later moved with his family to St. Catharines. He started drum lessons at age 13 and became a fan of everyone from Gene Krupa to Keith Moon to Ginger Baker to John Bonham. After a stint living in England in the early 70s, he moved back to Ontario where he took a job at his dad's farm implement dealership.
In July of 1974, he auditioned to replace John Rutsey in an unknown band called Rush and got the gig just in time to write and record the group's second album, Fly By Night. His style instantly changed the band's sound and he became their primary lyricist.
Rush really began to click after the 2112 album in 1976. How many millions of kids got into drums because of what Neil did on the "Overture?"
How many pieces of music can incorporate everything from prog rock to sci-fi to a novel from Ayn Rand? Jeezus. Is there a drummer that's inspired more air drummers?
When I was in high school, all my nerdy friends would come over to my place for lunch. We'd play ping-pong and listen to whatever new records I had bought. One day, I cracked open the new Rush album, Permanent Waves. Side one track one was "The Spirit of Radio."
Reading through the lyric sheet, I realized that the song was about a real radio station in Brampton, Ontario. I remember thinking, "Gee, it would be cool to work there one day." Little did I know that six years later I would, starting an association with CFNY/102.1 the Edge that continues today.
Here's the full story of how that song came about.
Around the same time, I was working as a drum teacher at place at Main and Inkster in Winnipeg called Drums Unlimited. On a night Rush was in town, he bet me that I couldn't get Neil to sign a drum head that we could display in the shop. Challenge accepted.
I took a head–Remo, I believe–down to the old Winnipeg arena. I bluffed myself as far as I could into the backstage area, saying that Neil needed this head for his kit. Somehow, I got to one of the roadies who took it back to the dressing room. Neil must have just laughed. He signed the skin. It hung in the shop for years.
In later years, Rush embraced their sense of humour. If you were at any shows since about 2005 would have seen some really funny interstitial videos.
Rush even appeared in a 2009 comedy called I Love You, Man, which confirmed the pronunciation of Neil's last name for once and for all. It's "Peert," not "Pert."
Neil was an extremely introverted and private person. In all the years I intersected with Rush, I only ever met Geddy and Alex. Even when I did things with their management company, I never got to meet Neil. It was one of my great bucket list things, right up there with meeting Mick Jagger and Keef. Damn.
I did a tour of the two kits Neil used on the R40 tour, thanks to his drum tech. No Neil, though.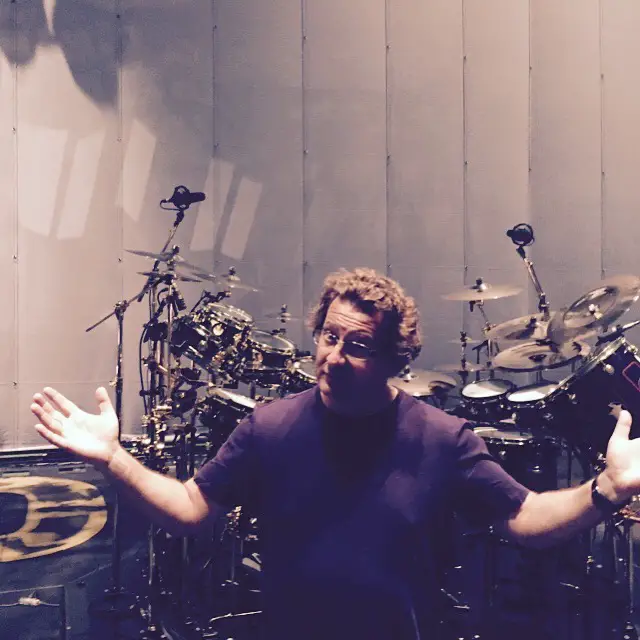 It's not that Neil never did any interviews. He did. They were just very, very rare.
Fans will remember that Neil's 19-year-old daughter Selena died in a single car accident on August 10, 1997, when she was driving to university. Five months later, Neil's common-law wife of 23 years, Jackie, died of cancer. That caused Neil to temporarily retire from Rush so he could tour North America by motorcycle to help straighten out his head.
That worked. He remarried in 2000 and returned to Rush in 2001, staying with them until that August night in 2015, the last show of the R40 tour.
And here is Neil's last-ever drum solo as part of Rush.
Neil is survived by his wife Carrie and his daughter Olivia.
Read more about Neil at his website.
Check out some of the tributes that have come in.
Here's more Neil.