Rock My World Canada, Chapter 27: Arcade Fire
[Mike Carr has put together a massive volume on Canadian music history entitled Canadian Alternative & Indie Reference and Collector's Guide. It's an incredible discography of hundreds of bands. This is the latest excerpt from his book. – AC]
Arcade Fire is an indie rock band based in Montreal, Quebec, consisting of husband-and-wife Win Butler and Regine Chassange, along with Win's younger brother Will, Richard Reed Perry, Tim Kingsbury, and Jeremy Gara. The band's current rotating lineup also includes former core member Sarah Neufeld, frequent collaborator Owen Pallett, two additional percussionists, Diol Edmond and Tiwill Duprate, and saxophonists Matt Bauer and Stuart Bogie.
Founded in 2000 by friends and classmates Win Butler and Josh Deu, the band rose to prominence in 2004 with the release of their critically-acclaimed debut album, Funeral. Their second studio album, Neon Bible, won them the 2008 Meteor Music Award for Best International Album and the 2008 Juno for Alternative Album of the Year. Many, many more awards have followed since.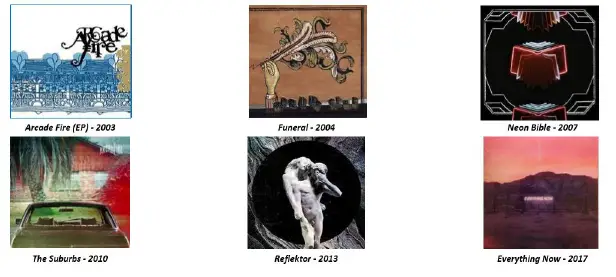 Find out more about this artist and hundreds of other Canadian artists in the softcover edition of Canadian Alternative & Indie Reference and Collector's Guide. Get your copy here.
Follow on Facebook and Twitter, too.