Rock My World Canada, chapter 87: Gowan
[Mike Carr is determined to create a catalogue/reference work featuring all kinds of Canadian rock and alternative releases from the past few decades. Check out his a massive volume on Canadian music history entitled Canadian Alternative & Indie Reference and Collector's Guide. It's an incredible discography of hundreds of bands. – AC]
Lawrence Henry Gowan (born 22 November 1956) is a Scottish-born Canadian musician from Scarborough, Ontario. Gowan has been both a solo artist and the current lead vocalist and keyboardist of the band Styx since May 1999. His musical style is usually classified in the category of progressive rock.
After his first band Rhinegold broke up, Gowan began a solo career under the stage name Gowan, releasing his first album under that name in 1982, which was produced by Rob Freeman and featured Kim Mitchell of Max Webster on guitar. This album contained the singles "Victory", "Give In" and "Keep Up the Fight". On 16 November 1998, Gowan received the National Achievement Award from the Society of Composers, Authors and Music Publishers of Canada (SOCAN).
Since 1999 he has been the lead singer for the band Styx.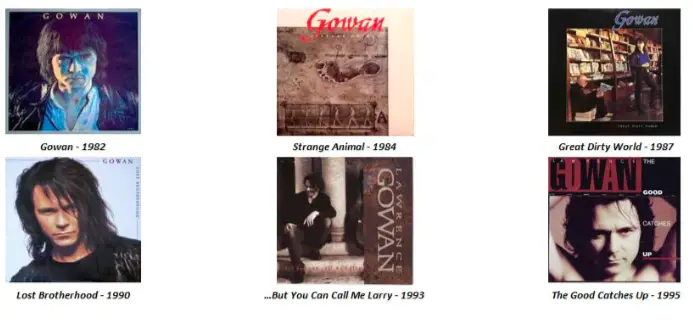 Find out more about this artist and hundreds of other Canadian artists in the softcover edition of Canadian Alternative & Indie Reference and Collector's Guide. Get your copy here. Follow Mike on Facebook and Twitter.