Rogers Waters' The Wall Premieres at TIFF: A Review
As The Wall approaches the 35th anniversary of its release on November 30, it is no less powerful. In fact, its themes of alienation, fear, war and repression have only grown stronger. No wonder Roger Waters can't let it go.
Having toured his version of The Wall alone (he remains estranged from the other members of Pink Floyd), he felt the need to capture the spectacle–and believe me, spectacle doesn't justify the experience–on film. But rather than crank out Roger Waters' The Wall as yet another run-of-the-mill concert film, he and director Sean Evans found a way to weave an interesting narrative throughout.
First, the music. The concert scenes were shot–meticulously shot, beautifully shot–in Athens, Buenos Aires and Quebec. It's The Wall, front to back featuring (mostly) note-for-note and tone-for-tone renditions of what we hear on the album featuring longtime collaborator Snowy White on guitar, GE Smith (remember him from The Saturday Night Live Band) and his son, Harry Waters. Nigel Godrich, Radiohead's go-to-guy, was in charge of the music production and mix and should be very proud of what he accomplished.  There are some extra flourishes in the performance and updating of a few random sounds, but for the most part nothing needed to be changed. The album has aged that well.  And I'll be honest: the guitar solo in "Comfortably Numb" brought a tear to my eye.
I'd never heard of Sean Evans before yesterday but damn, this young guy has a eye.  The direction of the film is stunning.  The cinematography is brilliant. And the way the interstitial narrative scenes are shot are quite brilliant. And the technical expertise required for the visuals in the stage production itself are–well, I've never seen anything like that before. You'll constantly ask yourself "How did they do that?"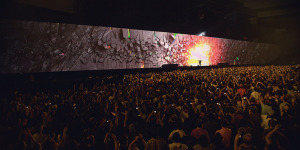 And now, the narrative.  Woven in between the concert scenes is a road trip featuring Roger in an old Rolls Royce driving from France to Italy to visit the grave sites of his grandfather (killed in a September 1915 battle in World War 1) and his father (killed in action on Anzi Beach in Italy in 1944). If you're all familiar with Roger, you'll know that he's never, ever been able to get over the death of his father. And knowing that his dad had his father taken away from him by war when he was still very young just makes it all that harder. I won't give away any of the scenes because that might lessen the impact.  Let's just say that Roger and the people who join him in the scenes are very good.
Following the screening, there was a Q&A with Rogers and Sean.  Here's a shot.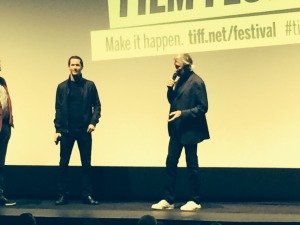 If you're a fan of Pink Floyd generally and The Wall specifically, you really can't go wrong with this one.  More coverage on the premiere can be found here, here and here.