Seattle Police Pictures of Kurt Cobain's Shotgun. Why Now?
Kurt Cobain famously declined any further participation in this life sometime on April 5, 1994. His method of choice was a Remington shotgun and after Kurt's body was discovered, it was entered into evidence. And it sort of disappeared into the bowels of the Seattle PD.
Fast-forward to this week, almost 22 years after Kurt died. Meet detective Michael Ciesynski. New photos show him posing with the weapon.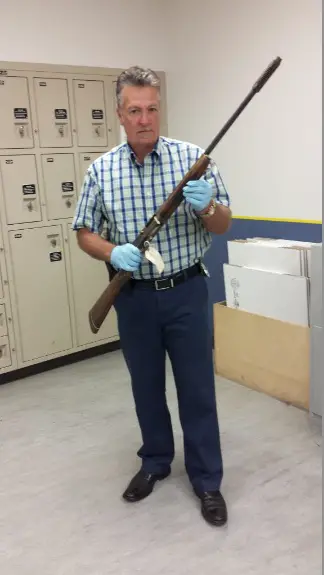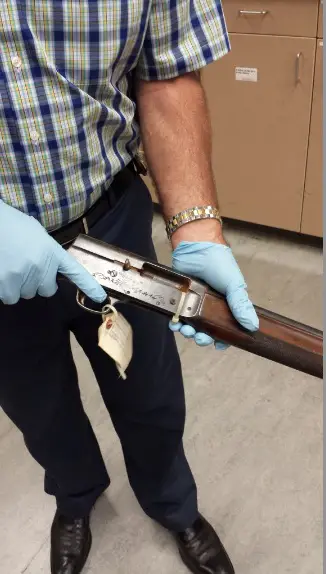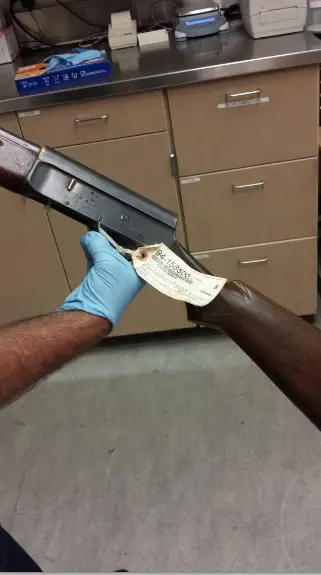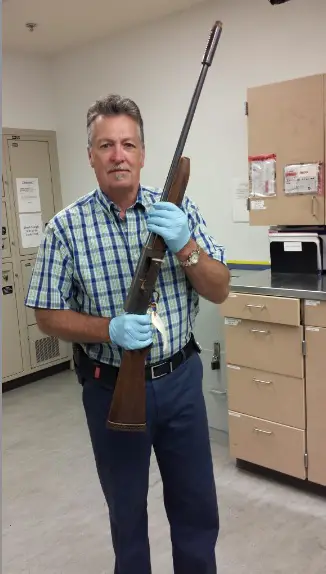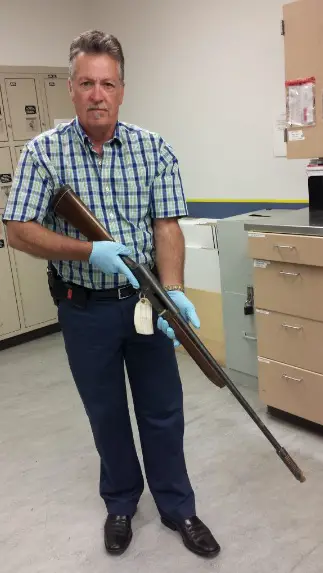 Why now? From SPD Blotter:
(Updated) Detective Reviews Cobain Case, Which Remains Closed
Update 3/15/2016: The department is releasing five additional photographs of the firearm, taken on or about June 11, 2015. These photos were placed on the City's computer system on March 3, 2016, and added to the investigative file shortly thereafter. They are now viewable in a gallery at the bottom of this post.
Update 7/24/2015: In response to numerous public disclosure requests for the newly-discovered images related to the Cobain case, the Seattle Police Department is releasing an additional 34 photographs taken at the scene. The photos can be viewed in the gallery at the bottom of this page.
— Originally published 3/20/14
In anticipation of the 20th anniversary of the suicide of Seattle icon Kurt Cobain, Seattle Police Department Cold Case Detective Mike Ciesynski reviewed the case file in anticipation of media inquiries about Cobain's death, and the many conspiracy theories surrounding the case.
Ciesynski reviewed the case—including statements and evidence photos—but did not re-investigate or re-open what is considered a closed case.
"We knew with the 20th anniversary coming up and we knew there was going to be a lot of media interest," Ciesynski says. "I've been a detective in homicide for 20 years and I've been in the cold case unit for 10 years. Most of the cases I work on, I look for something that wasn't done [in the investigation] in the past."
To prepare himself to take a fresh look at the case, Ciesynski says he watched several documentaries about conspiracies surrounding Cobain's death, read articles and watched TV shows. "They're all very interesting," he says. "I can see why people have questions [about the case], but you can always point to something and say 'what if.'"
After pulling the full case file out of storage at SPD's Evidence Unit, Ciesynski did find something left undone in the 20 year old investigation—four rolls of crime scene photos, which were never developed by investigator as they "felt it was a suicide and already had polaroids and photos from the medical examiner," Ciesynski says.
If you'd live to view those crime scene photos, go here. But if you're looking for new evidence of anyone other than a suicide, you'll be disappointed. From Blabbermouth: "Ciesynski, who was assigned to review the case, said that he developed the rolls of film to possibly help quiet persistent and groundless conspiracy theories that Cobain was murdered."
I still believe that Kurt killed himself and wasn't murdered or the victim of some wider conspiracy. But some people will never, ever be satisfied with any of the explanations we've heard over the last two decades.