Shocker: Singer Adam Gontier Leaves Three Days Grace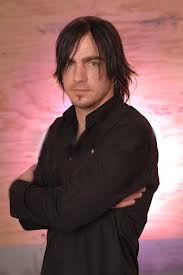 Wow.  I just exchanged some emails with Adam before Christmas and everything seemed to be fine.
Word is, though, that Adam is out of the band as of yesterday.  "Health issues," it's said.  I'm not sure what that means but I hope it's not a resurfacing of some of the demons Adam had to deal with in the past.
Here's Adam's resignation letter:
To all of my fans, my friends, my family, these are my words coming from my heart, separate from my role as "lead singer of Three Days Grace".

I want you all to know how very thankful I am for your consistent love, your respect, and you're undying support. It is important for me to address any concerns regarding my health being connected to drugs or addiction. The truth is, when I was struggling during that dark time in my life, I hit rock bottom, and I had the kindest of people reach out from all over the world, and reach their hands out to help pick me up. I am so blessed to be walking in the light now. I am reminded of your loyalty, always. The truth is, and I'm very proud to say this…, I am sober. That chapter in my life is over.

There have been many defining moments in my life. My time as part of Three Days Grace is most definitely one of the miraculous ones. I have had so many tender hearted people share with me their stories. How I've touched, or changed their lives. My truth is that all of the love I have received has forever changed my life. Each letter I've read, every picture I've been sent, all of the voices I've heard sing along with me, I will forever remember, and never forget…

After twenty years of being part of an ever evolving band, I have been inspired by life, to move on and to continue to evolve on my own terms. I could not be more grateful for all the souls who have travelled along with me. A journey I look back on with integrity, and a future I look forward to with such hope. I have always admired brave hearts. Life is always changing. I will continue to follow my heart, and what I love to do. I'm not sure what the next horizon will look like, but I do have all the faith in the world that whatever it is, It's meant to be, and I have faith that blessings will continue to shine over all of us. I once heard a "brave heart" say:

"When nothing is sure, everything is possible."

It's because of my life's journey, because of all of you, that I believe.

Sincerely, with love,

Adam
With a tour looming (February 1), the band has drafted in My Darkest Days singer Matt Walst.  In an admirable display of full disclosure, the band has posted these examples of Matt in rehearsal with the group.