The Slants: On the Road, Waiting for the Supreme Court
The Slants are, first and foremost, a band.
They're not about to let waiting for a decision from the US Supreme Court get in the way of being a band.
The Portland, Oregon-based quartet is touring in support of their latest album, The Band Who Must Not Be Named, not only playing clubs across the US but also meeting with law students, civic organizations and law firms to discuss their lawsuit.
The Slants have been fighting with the US Patent and Trademark Office for the better part of a decade, trying to secure the right to trademark their name. USPTO has used a dusty piece of legislation, the Lanham Act, to label the band's name as disparaging to Asian Americans, even though the four members of the band are themselves of Asian descent.
The band kicked off their tour in Washington, DC, right around the same time that oral arguments were heard in their case, right around the same time the presidential administrations changed over, when the Supreme Court still had eight members.
Some things have changed since January. One thing has stayed the same: The Slants are a band, first and foremost.
"I am having such a blast! The last few tours I tried to multitask, doing video blogs, documentary work and songwriting for a couple musical projects and it left me exhausted," says guitarist Joe Jiang. "This time I decided to just live the life of a touring musician and enjoy every second of it. I've gotten to meet incredible musicians along the way, see friends I haven't seen in years and hung out with a punk legend!"
Simon Tam, bassist for The Slants and a founding member, believes this is their most ambitious tour to date.
"Not only are we stacking multiple appearances each day, but I have to switch gears between giving talks about our legal better as well as sitting on panels and debates about the case, playing acoustic versions of our songs, holding interviews, driving and playing full concerts while preparing to deliver a TED talk at the end of the trip," Tam says. "On top of that, I'm still working on booking, shooting and editing video, doing most of our social media and working remotely for some of my other jobs at the same time. That being said, the journey has been incredible. It's heartwarming to see so many people interested in our case as well as our music!"
The Slants continue to meet with law students in particular to explain why they continue to fight against restrictions in trademark law that are unevenly and unfairly applied: Other trademarks with the word "Slant" in the name have been granted by USPTO but never if the applicant has been of Asian descent. The case has several ramifications, including implications on the First Amendment, but also whether a group of citizens has the right to determine whether language is disparaging about itself.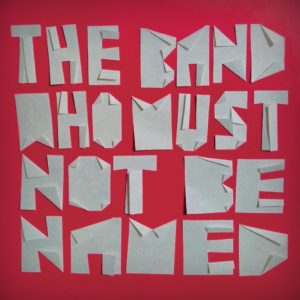 "We've met so many law students at almost each stop on this tour," says Yuya Matsuda, the band's drummer. "It's fun talking with them about our case and to rock out with them during our set."
While Tam is most often the one in court speaking on behalf of, or sometimes prevented from speaking for, the band and its name, it's clear from their shows that all four members believe strongly in their First Amendment rights and the inequity of the law as it is currently being applied.
"People are interested in law often talk to us and commend us for standing up and being a part of this fight," says Ken Shima, The Slants' singer, who references not just the band's legal fight but other political and civil issues from the stage during concerts.  "They understand that it's not only about the band, but for our community and for other marginalized communities."
And, of course, there are those who question why the band looks the way it does and why they decided to use what has become a controversial name.
"People in intellectual property law are usually very polite. Most of them are very curious and hold the same questions: Why did I start an Asian band? Why did I call it The Slants? Why did we continue to fight?," Tam says. "I appreciate the opportunity to give them that backstory because, too often, they only deal with cases in a cold, detached manner. I think it's important to understand the humanity behind these legal journeys, so we can fully appreciate what it's like for underrepresented communities in this area. So far, the feedback has been overwhelmingly positive. I think people hear about our actual experiences of appealing through the Trademark Office, it's very difficult to argue in support of keeping the status quo."
The music they make, a high-energy dance-pop sound that's been compared with Depeche Mode and New Order, dubbed "Chinatown dance rock" by their fans, remains the star of the show and what they hope fans and students alike will think about after the talk, or concert, is over.
"I want people to see us as more than just a band that went to the Supreme Court," Jiang says. "I joined this band as a musicians and my goal was and still is to write, perform and inspire others to make music. If the conversation has to be about our legal case, I hope the discussion doesn't just end there. I hope people will see all the social justice work we do as both a band and as individuals. I want the conversation to move on to the bigger systemic issues with racism, sexism and classism."
"We're four guys who love music and love sharing that passion with others," says Matsuda. "What I mean to say is, go to iTunes, YouTube, Spotify and our website, www.theslants.com, and check out our music! It's a good life decision, I promise!"
They hope to encourage others to take a look around their communities and find ways in which they can make a difference, speaking up on behalf of those facing injustice in their own towns.
"I want people to walk away knowing how passionate we are about this battle and our music," Shima says. "By using our music as a means to bring attention to other causes, it fulfills my musical passions as well as my interest in activism. Now that I've been in this band, I don't want one without the other."
The Supreme Court's term ends in June, meaning a decision is likely to come soon. Unfortunately, there's no way of knowing when a decision will be handed down. Tam says there's been speculation the case will be decided toward the end of the term, but it's anyone's guess.
Until then, and for the foreseeable future after the ruling, The Slants will continue to be a band, four guys working and playing together to bring a little musical joy into the world. There's no regulation limiting that.