John MacFarlane, CEO of Sonos, thinks we've reached a watershed moment.
Over the past 10 years, we at Sonos have had the privilege of a front-row seat as streaming music has evolved; we've watched inspiring innovative ideas and technologies emerge and take shape.
Some of these flourished, while others faded away.
Through it all, two things remained constant: The passion music fans feel for their favorite artists, and their determination to do whatever it takes to listen to the music they love.
We've reached a watershed moment for streaming music.
Music fans are taking advantage of a rapidly evolving landscape of technologies and services that are redefining our music experience, and expanding our engagement with music and artists in ways that were previously unimaginable.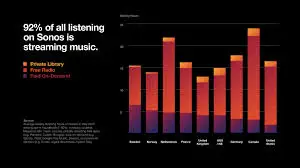 He's hoping that will eventually lead to balance for both artists and consumers.
The recent debate on streaming has been focused on short-term concerns — issues of access, mobile convenience and remuneration.
As we accelerate up the path toward 100 million and then one billion paid streaming listeners, these are crucial conversations, of course.
Any fundamental transformation requires new business models, throwing up both the good and the bad. The industry needs to strike a balance that will benefit both artist and listener.
As the evolution of on-demand music has shown us, what matters most is the simplicity of the listening experience, which can often be at odds with the music business's position.
Digital music's relatively brief history is filled with examples of the extraordinary lengths music fans are willing to go to to access and enjoy the music they love — piracy was arguably a direct consequence of the lack of simple legal alternatives.
Read the whole story here.