Turn Your iPhone into a Self-Defense Weapon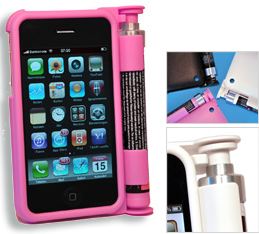 The iPhone/iPod case industry is a multi-billion dollar racket. There's no way those little pieces of plastic cost $34.99! What's the margin on these things? Yet people buy them by the millions.
And for what? Protecting their device against bumps, scraps and the occasional non-lethal drop. Better grip. Bridging that fussy annenta in the iPhone 4. A fashion statement. And that's about it, really.
This new case, however, is different. It's the best innovation since the extra battery pack. It turns your iPhone into a self-defense weapon.
They call it the Smarguard iPhone case. Three-quarters of it looks fairly normal, but attached to one long side is a canister of pepper spray capable of a half-dozen .5 seocnd squirts which can reach a radius of five feet. And it comes in pink, too, for whatever that's worth.
And at $50 for the case (refills are $27), it seems like a better deal than just a stupid piece of plastic. Assuming you feel you need one of these things, of course.