Update on the World's Longest Concert Attempt in Aid of Gord Downie's Favourite Charities
As reported earlier in this space, a group of people in the Stouffville, Ontario, area are going to launch an attempt to stage the world's longest continuous concert featuring multiple performers. Why? To lend their hand to charities that are close to the heart of the Tragically Hip's Gord Downie. As he continues to live with his incurable brain cancer, he's inspiring people to stage events like this.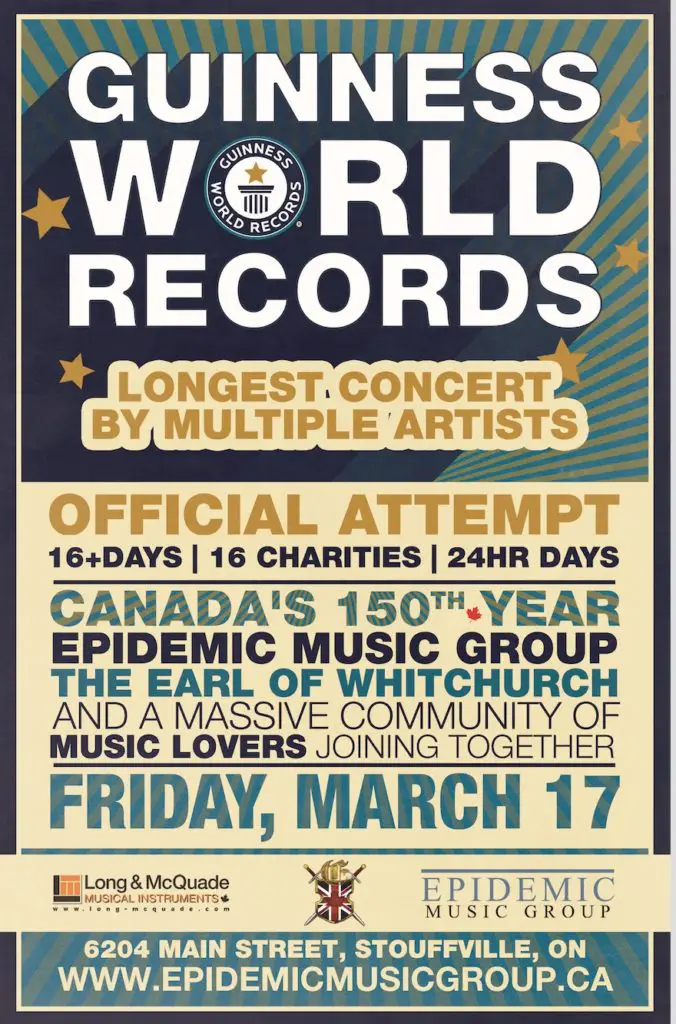 Slated to start on St. Patrick's Day (March 17) at The Earl of Whitchurch pub, the gig will featuring more than 400 performers hitting the stage one after another 24/7 for at least sixteen days. Each day will raise money for a different charity.
Kevin Ker and his Epidemic Music Group are the primary drivers behind everything. "Watching Gord Downie overcome unimaginable adversity last year, to tour and bring awareness to such important causes, is one of the most inspiring things I have ever witnessed. The obstacle we face pales in comparison, this Guinness Record attempt is our opportunity to make a difference."
This is not going to be easy. The Guinness Book of World Record people have laid down some serious rules.
No more than five minutes between acts;

No more than 30 seconds between songs; 

The same song must not be played more than once in a four-hour period;, 

A static video (i.e. one that is 16 uninterrupted days long) of the entire effort must be submitted.
In addition to the 400 performers, more than 100 volunteers will take part.
Kevin and I have been talking about the event since it was first announced. Here's his latest email to me:
Hi Alan,
Well a lot has happened since we first chatted about the Guinness Record event. Since you broke the story for us, we've had fantastic media coverage, hundreds of bands and volunteers, sponsors and even some reputable Canadian acts showing interest! Our core planning committee is now 25 people strong and the plans are coming tougher beautifully. 
We will have top of the line professional production and backline courtesy of RP Dynamics and Long & McQuade respectively. Our video evidence requirements for Guinness are being met and exceeded by the partnership with a reputable security surveillance company. We are also in talks with a major nationwide media outlet to live stream the entire event (gaining us another world record at the 8-day mark- The Longest Live Streamed Concert). 
Some of the confirmed charities are:
1) Sick Kids
2) The Gord Downie Fund for Brain Cancer Research
3) Artscan Circle
4) Markham Stouffville Hospital
5) 360 Kids
6) Family Navigation Project
7) The Gord Downie & Chanie Wenjac Fund
8) Evergreen Hospice
9) North Toronto Cat Rescue
10) Brain Tumour Foundation of Canada
11) Songs 4 Steffi
We also signed on with Indoor Recess PR (Arcade Fire, Eric Clapton, Warchild, Montreal Jazz Festival). Our media release went out this morning, hopefully it's sitting in your inbox. 🙂
Again, I can't thank you enough for giving us such a fantastic boost right off the top. Having someone of your stature behind us enabled us to accomplish very big things rather quickly. It was a massive injection of excitement to the planning committee. 
Thanks again, 
Kevin Ker
You can follow along on the event's Facebook page.
For Sponsor/Partnership Opportunities please contact:
Joely McEwan – [email protected] | (416) 458-2508
To be a volunteer at the event please contact:
Shaen Ar – [email protected]