Whitehorse helps bring live music back to a corner of Ontario: An interview with Melissa and Luc
[This is a guest post from Ross McDonald. He also took all the pictures. – AC]
In March of this year, Whitehorse released their 6th studio album, 'Modern Love'. Although not the start of a tour, Whitehorse took the opportunity to play at Neat Coffee Shop in Burnstown Ontario on Canada Day. This was perfect timing for an outdoor live show; still socially distanced, as the pandemic starts to abate and more people are being vaccinated. The weather was cooperative and everyone was practically giddy at the return to live music.
Whitehorse is a partnership of Melissa McClelland alongside her husband Luke Doucet, both singing harmonious vocals and playing guitars and bass. This time they brought along long-time friend Johnny Obercian, keeping time and filling out the sound on percussion. They opened the show with their powerful hit song 'Devil's Got A Gun'; Luke's quick hands between the strings and tremolo showcasing why he is one of Canada's preeminent guitarists. If you haven't seen Whitehorse play live, you are missing out.
Midway through the show, Luke and Melissa commented on how pleased they were to see not only all the red for Canada Day, but also many in the audience were wearing orange in honour of the indigenous children that suffered at the residential school system. They then played a very emotional 'I Will Not Be Struck' from Gord Downie's Secret Path album; the story of a residential school victim Chanie Wenjack.
Throughout the evening Whitehorse played their past hits and included their newest single 'I Wanna Make Promises (That I Can't Keep)'. A little later they put their own spin on the Rolling Stones 'Miss You'. The audience at Neat was overjoyed that live music is coming back, and that Whitehorse was the band to kick it off. The bar has been set very high.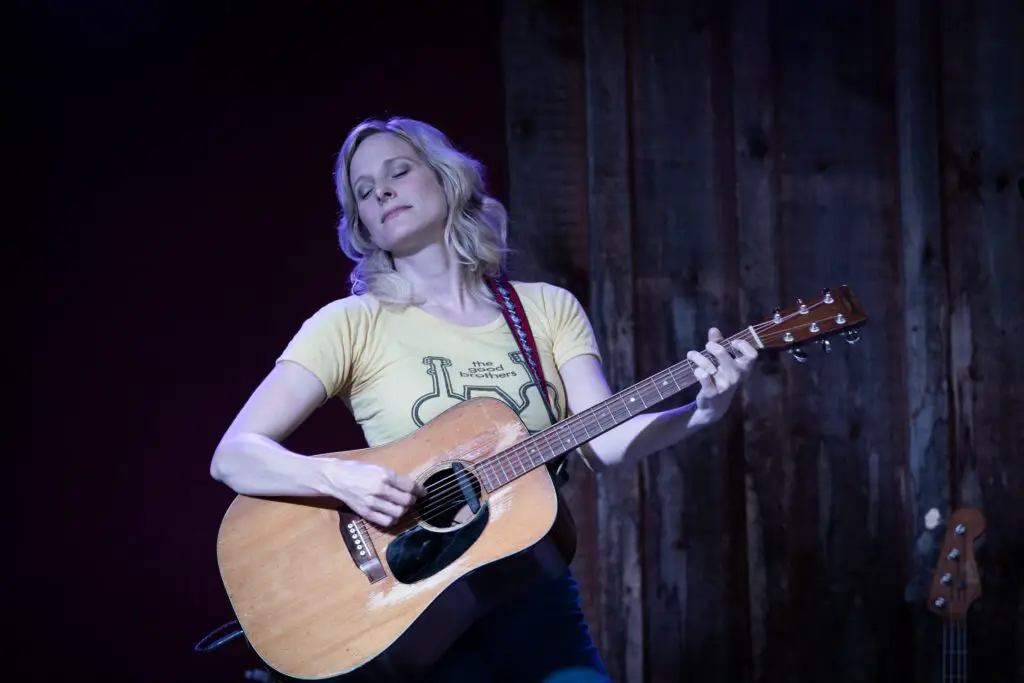 After the show, we had a chance to catch up with Melissa and Luke in Neat's lounge upstairs above the kitchen. They snuggled up together in the love seat; the couple just celebrated their 15th wedding anniversary and they are as close as ever.
On 30 June some Canadian Radio stations partnered with the Downie & Wenjack Fund in A Day To Listen, in light of the uncovering of the graves of hundreds of indigenous children. Listening and learning seem to be step one. What do you feel is next?
Melissa: "We've been to a lot of indigenous communities. What does reconciliation mean? Right now listening and learning is where I'm at."
Luke: "Ultimately reparations, policy, and money. Practical things like water have to be sorted out because some of the scars are so deep, and organic reconciliation, with a small r. John Ralston Saul [in his book A Fair Country] wrote about a cultural, academic, and artistic explosion among indigenous communities and it was very optimistic. He talked about although the courts have sided with indigenous people in land rights and various challenges repeatedly and the moral authority exists with indigenous communities; nevertheless, the power, the government, is still reluctant to yield to the moral authority. But there are advancements in the status of indigenous peoples."
How did you come up with the name Whitehorse? Do you have any connections to the Yukon?
Melissa: "At first we were recording a record together, it was going to be a one-off, and as we started recording the music we realized this is more than just a one-time thing and it's more collaborative than two solo artists coming together and so we thought it deserved a band name. We wanted to define our band as very much Canadiana, so let's look at a map. We had just been to Whitehorse and it is such a magical special place and we love that it is so remote, there is a romanticism."
Luke: "For the record, it is very much a tribute to the city of Whitehorse."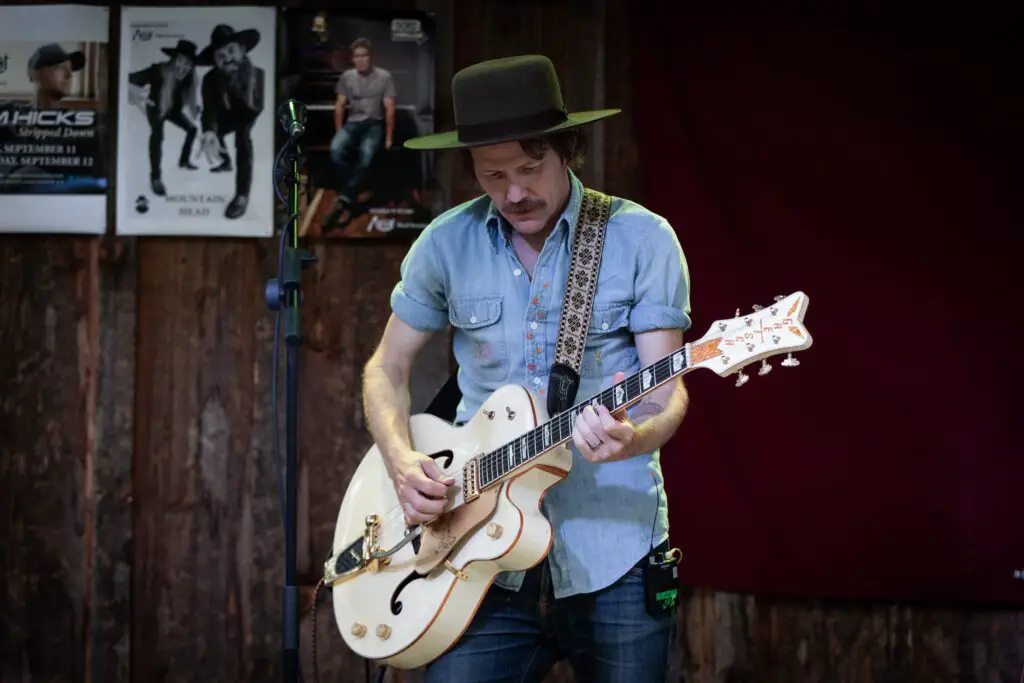 You have a big range of "genres", your music is very diverse. Do you classify yourself as "Roots" or something else?
Melissa: "People come up after shows and ask 'what kind of music is this?'"
Luke: "The best answer is 'do you like it? Then it's that kind.' Roots is a big umbrella, the basic ingredients of what we make are to some degree 50's and 60's, there's rockabilly, surf, blues, and country; but we aren't any one kind of music."
Melissa: "We now have greater access to music. We get infiltrated by all kinds of music and aren't limited to any one genre. Maybe our identity is the identity crisis." [laughs] "We would be both bored to tears if we had to resign ourselves to one style. That's not how I listen to music, that's not how I want to create music."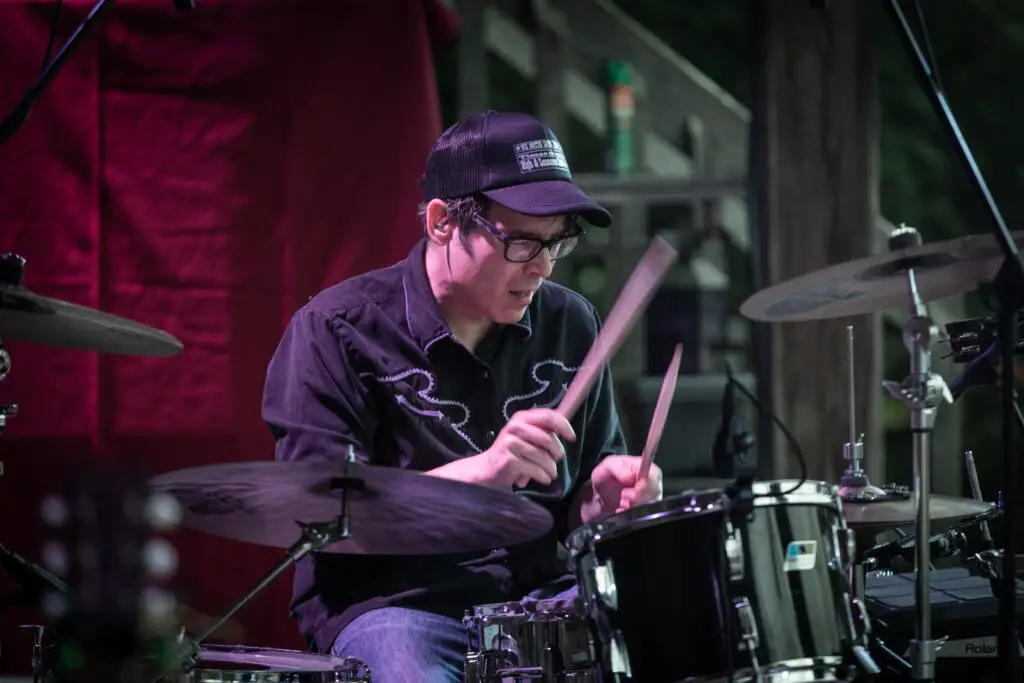 In the video for Am I Just Going To Stand Here, are you talking about Melissa or your guitar?
Luke: [laughs] "There are a lot of decoys on this record, so no, it is not about the guitar."
Melissa: "That video was so fun to make. We did a three-day shoot in November in-between waves. Lyle Bell, genius artist, flew in from Edmonton and built an elaborate set made out of plywood, styrofoam, and fake flowers. We were wearing psychedelic outfits and standing on the podium of this wild set playing the song a bunch of times and then they handed us sledgehammers and filmed us destroying the set. After a year of lockdown it felt so fucking good to smash shit. It was a very cathartic video shoot."
So many Canadian artists are very cooperative. Why don't we see the competitiveness of other places?
Luke: "One of the things about the Canadian music scene is that it too small not to be friendly to one another. At the Junos there are only 1,000 people in the whole building because the music industry is small. There is a certain camaraderie that's built out of the fact that it's small."
Melissa: "I love the spirit of mentoring. There is no room to be competitive."
Luke: "I first time I met Jim Cuddy in 91 or 92 at a music festival in Harrison Hot Springs BC. I was trying to carry five guitar cases across a field to play our show and I dropped a guitar. This guy goes 'don't worry about it, I got it', I looked behind me and it was Jim and he carried my guitar for me. He helped me carry my gear to the stage. Blue Rodeo has been that magnanimous and generous and it is contagious."
The pandemic has certainly hurt live music, have you found a silver lining?
Luke: "We recorded three records in lockdown. Modern Love came out in March, the second one will come out in September, and the third one is coming out in December."
Melissa: "There have been many silver linings. Our entire adult life we have been on the road; thankfully we love being on the road. But this has been a wonderful opportunity to experience life at home and have a routine, we home-schooled our son this whole time."
Luke: "We had a great year with him, he's thriving!"
It looks like three album releases for Whitehorse this year. What's next for Whitehorse?
Melissa: "Our Canadian tour will be in February and March 2022. Possibly some stuff earlier."
Melissa McClelland: vocals, guitar, bass
Luke Doucet: vocals, guitar
Guest Johnny Obercian: percussion