WikiLeaks Says Tom DeLonge of Blink-182 Sent Emails About Aliens to Hillary Clinton
With four weeks to go until the US election, Hillary Clinton people are deathly afraid of what Julian Assange and his WikiLeaks people have on her. For months, there have been hints of some kind of October surprise, a dump of info that could have fatal consequences for her campaign. So far, though, nothing.
Well, not exactly. The latest trove of WikiLeaks documents contains a series of emails written to Secretary Clinton by Blink-182 founder, Tom DeLonge.
Tom, as Blink fans are well aware, is serious about the government coverup of the existence of aliens and wants to talk to Hillary about what he knows. WikiLeaks revealed that he sent at least two emails to Clinton campaign chairman John Podesta (and a former senior advisor to Barack Obama) offering to introduce Hillary and her people to high-level people with knowledge of the conspiracy. I quote:
I would like to bring two very "important" people out to meet you in DC. I think you will find them very interesting, as they were principal leadership relating to our sensitive topic. Both were in charge of most fragile divisions, as it relates to Classified Science and DOD topics. Other words, these are A-Level officials. Worth our time, and as well the investment to bring all the way out to you. I just need 2 hours from you.
There might be another reason for DeLonge reaching out to Podesta. Other documents point to Podesta's involvement in a documentary about UFOs produced by Tom. Hmm.
Digging deeper, we find this quote about General William McCasland who served in the Air Force and who might have once been an astronaut candidate:
He mentioned he's a "skeptic," he's not…. He just has to say that out loud, but he is very, very aware—as he was in charge of all of the stuff. When Roswell crashed, they shipped it to the laboratory at Wright Patterson Air Force Base. General McCasland was in charge of that exact laboratory up to a couple years ago.
Hmm. Who is this mysterious General? And what "exact laboratory" are we talking about?
And it gets better. When Podesta leave his position in the White House, he tweeted this. (I know it's credited to Brian Deese, Obama's new senior advisor and the heir to Podesta's Twitter account; the original tweet came from Podesta.)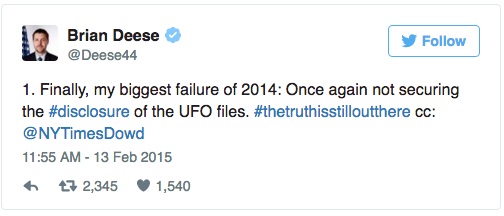 Whoa.
And it's not as if Clinton isn't interested in this sort of thing. She did tell Jimmy Kimmel that she'd open up the files on Roswell if there were no threats to national security.
Pursue the truth that's out there here, here and here.
Don't forget Tom's lightly fictionalized novel about the alien conspiracy called Sekret Machines. Here's what he told Entertainment Weekly when the book was released:
This is Tom representing 10 people that are of the highest rank and office within the Department of Defense establishment and they are asking me to communicate something that they see as the utmost national security issue that has ever existed. They see it as a global security issue.
And let's end with this track from Enema of the State.