Win a Bike Ride with…Bono?
The last time Bono went for a bike ride in Central Park, things did not go well. He had a serious crash, resulting in the following injuries:
Left facial fracture involving the orbit of his eye.
Left scapula (shoulder blade) fracture in three separate pieces.
Left compound distal humerus fracture where the bone of his humerus was driven though his skin and the bone was in six different pieces.
There was five hours' worth of surgery where the elbow was washed out and debrided, a nerve trapped in the break was moved and the bone was repaired with three metal plates and 18 screws. Surgery was also required on his left hand to repair a fracture of his 5th metacarpal.
Then there were the pain meds, the physio and the continuing numbness in his left hand which is still preventing him from playing guitar. It was…not good.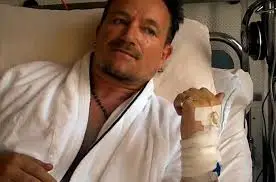 Now Bono would like to take you for a bike ride in Central Park to get some ice cream. Seriously.
As part of a World AIDS Day fundraiser, Bono is offering a prize in the (Shopathon) Red campaign. His prize involves the following:
A ride with Bono and a friend of your choice through Central Park in New York.
An ice cream, a chance to swap strories and a bunch of signed U2 merch.
Airfare to New York and four nights in a four-star hotel.
If you're interested (and brave) go here or click on the graphic below. (Via Larry)