A Visit with The Band's Levon Helm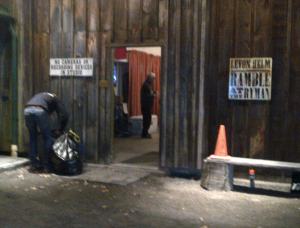 [Special correspondent Julia Wallace took a little roadtrip recently and ended up with Band drummer Levon Helm.  No, I don't know how she did it.  But it makes for a good story. – AC]
Winding along highway 206, deep in the Catskills, we prayed that the GPS maintain reception and the car not run out of gas. After three hours of breathtaking scenery, all of the (released) music from Big Pink, one gun boutique, and no other cars, it became clear that it ain't a trip to Woodstock unless it feels like a pilgrimage.
We were only convinced that we were, in fact, in the right town when we rolled up to a town square and were greeted by smiling hippies holding a tie-dyed banner which read "families for justice," and a poster which proudly proclaimed that the #1 reason to visit Woodstock is to "get directions to the place where Woodstock actually happened." (For those of you who didn't know, Woodstock is far too mountainous to accommodate half a million music fans, so they had to move the whole thing to nearby Bethel.)
Attempting to regain a sense of direction, it became so clear to me why Bob Dylan chose to stay in Woodstock after his accident; the scenery is a story unto itself. It was also no surprise that those young Canadian boys, known as the Hawks, gravitated towards Dylan's town in 1966 with that sweet southern drummer known as Levon. The roads are dirt, the people are free, and the mountains hold you inside. It was in Woodstock that The Hawks grew into The Band, and it was because of The Band that we found ourselves in Woodstock.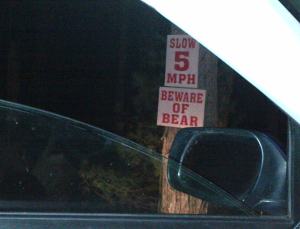 Unable to believe my good fortune, I found myself standing outside of Levon Helm's home attempting to wrap my head around my close proximity to two of my favourite things – Levon's music and the smell of a bonfire.
"You need to learn to see the cheerful side of things, if you don't have a positive attitude and a little bit of music to rub on the hurt you'll give yourself an ulcer or a heart attack." – Levon Helm
Sometime after The Band's demise, Levon Helm made his barn in Woodstock his permanent home.  In the years since then, Levon has been dealt a trying hand. In 1991, the barn burned to the ground and he had to rebuild it from the ground up, he lost bandmate Rick Danko in 1999, and faced a nearly life-ending bout of cancer, which almost stole both his iconic voice and beautiful home.
With resilience and music, he overcame it all. The result is the magical Midnight Ramble. 
Stepping inside Levon's you immediately feel warm and comfortable. The rambles – inspired by the medicine shows of his Arkansas youth – are the finest example of southern hospitality.
There are rules of the ramble, of course. Want to smoke pot? Go in the woods. Cigarettes? Just keep them away from the barn and you'll be fine. If you brought booze, they'll give you a plastic cup to bring it inside (just don't spill). His manager, Barbara O'Brien, gave me the details.
O'Brien is a beautiful straight-shooter who has known Levon for forty years. He turned to her when he decided to take a stab at hosting rambles as she "always knew how to throw a good party." By day, she is hard at work down at the local sheriff's office. And almost every Saturday night, she's throwing the best party in the state and helping out an old friend.  
O'Brien notes that the team of volunteers – much like the fans – range in age and many have been with her since the beginning working to keep the rambles as close to their roots and far from the middlemen and sleaze of the music business as possible. Connor, the charming boy acting as security (they prefer the more suitable term "peacekeeper") can't be more than 25.
He grins coyly, admitting that thousands would give a limb to be in his position. Jeanne, at the merchandise booth is another sweet and lovely Woodstock native and couldn't look happier to be there. These people are bound together by their love and respect for Levon.
O'Brien drives home the fact that it no longer surprises her when people show up from overseas or across state lines. It also doesn't surprise her if someone shows up to every ramble. Everyone is welcome, as long as you aren't an asshole. If you're an asshole, you won't fit in here.
The studio is small and warm with a fireplace along the back wall and a low loft section from which you can almost touch the band – separated from the crowd by a low riser and just enough room to squeeze past you and hop onstage.
As a happy and dapper Levon took his rightful place behind the drums, it was obvious that something spectacular was about to happen. I honestly wondered if the little barn might burst with energy. Two bars into "This Wheel's On Fire" I had head-to-toe goosebumps and tears in my eyes (both remained until I got back to Toronto days later, and return whenever I think about it). The Levon Helm band is phenomenal, and features (to name a few)a four piece brass band, the stirring vocals of Amy Helm and Theresa Williams, and special guest Donald Fagan of Steely Dan fame on the keys.
The cancer has damaged Levon's voice, but not his attitude. While he stayed off lead vocals for the first four songs, he was a strong band leader smiling and singing away behind his kit. And that smile is infectious. In spite of not feeling his greatest (he had tissues at the ready and is going in for surgery this week) he gave an incredibly powerful vocal performance on "Ophelia." Particularly touching was watching the truly elated Levon and Amy look each other in the eye as they sang "honey you know I'd die for you" – after all, it was Amy who got dad singing again after his surgery and radiation. Rubbing some music on the hurt.
The three hour show conquered both time and musical genre. There was a stellar rendition of Allen Toussaints "On Your Way Down," the brass band shone and got so funky they started a second line during "Mardi Gras Day," the country twang ran deep during "Hard Country," and Theresa Williams brought us southern gospel with her violently passionate vocals during Reverend Gary Davis' "Keep Your Lamps Trimmed And Burning."
The musicians enjoyed being on stage together, and no one looked happier than Levon himself shrugging his shoulders to the beat as only he can all the while smiling away. He sang again during "King Harvest (Has Surely Come)" but allowed the ladies to take the lead.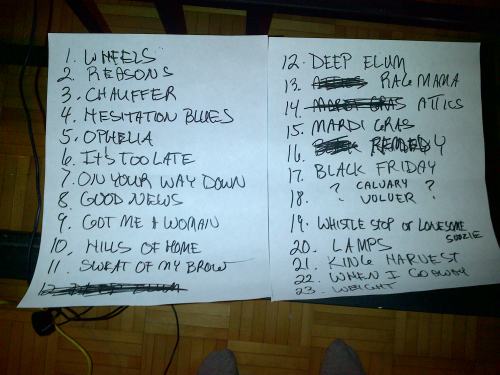 This isn't just some aging rock star trying to pay the bills. It isn't the casino circuit or a series of half-hearted attempts to recreate old hits by The Band. The songs that they did play by The Band were arranged in new and creative ways which best showcased all of the talent held on that little stage. The best example of this was the grand finale, when they crammed the opening act (a bluegrass group from North Carolina) on stage to sing "The Weight."   
I can only imagine how it must have felt for the boy from the mountains who got to take lead vocals on the first verse. Levon sang solo during my favourite verse about Luke and Anna Lee, and doing emotional justice to Rick Danko's unique vocals when it came time to meet Crazy Chester was the superb Brian Mitchell. The whole room finished the song together, and as the wood soaked up the final notes we were full and we were happy.
Earlier in the evening, I'd told Barbara O'Brien that they were making a lot of people happy by holding these rambles. Her response was that no one went to bed after a ramble happier than she and Levon. Watching him as he gleefully took the hand of each and every band member and lift it victoriously into the air confirmed that.
Seeing him smile, laugh, and shake the hands of his guests got me thinking about how big and brave his southern heart is. He ain't no pretender. It takes a lot of courage and selflessness to make yourself vulnerable by opening up your home. Levon lets you make his home yours. He offers you a place to go, and, if you need to, rub some music on the hurt.  
And a special thank you to my partner in crime Sarah Gibbs who endured many gin and tonics in Syracuse, my singing, and those wild country roads to help get us to Levon.