A-wop-bop-a-loo-mop-wop-bam-boom! Little Richard dead at 87
If there's a holy trinity of rock'n'roll, it's Chuck Berry, Elvis, and Little Richard.
Richard–real name: Wayne Penniman–not only helped create the template for rick through songs like "Long Tall Sally" and especially "Tutti Frutti," but also was instrumental in injecting flamboyant showmanship into music.
When that song appeared in 1955, no one had heard anything like it. Some critics and musicologists consider "Tutti Fruitti" be the most important song in rock'n'roll history.
Richard wrote the song some years earlier while playing juke joints on the chitlin circuit through the US South. In fact, lore has it that he came up with the song while working as a dishwasher in a Greyhouse bus station in Macon, Georgia. The "A-wop-bop-a-loo-mop-wop-bam-boom" bit was a vocalization of how he envisioned a drum fill would sound. ("Good Golly Miss Molly" and "Long Tall Sally" were conjured up the same way.)
However, the original version was somewhat, ahem, salty, for mass consumption.
In its first incarnation, the lyrics were about a gay man who–well…
Tutti Frutti, good booty
If it don't fit, don't force it
You can grease it, make it easy
Another version went
Tutti Frutti, good booty
If it's tight, it's all right
And if it's greasy, it makes it easy
During a recording session in 1955, Richard was restless during a lunch break, concerned that he and the band just weren't clicking. He went to the piano and used "Tutti Fruitti" as an example of how he wanted to be captured on tape.
Robert Blackwell, the producer for that day, recognized the song as a hit but also knew that the lyrics needed to be changed. That's when a substitute was made.
Tutti Frutti, aw rooty
Tutti Frutti, aw rooty.
The song was recorded in three takes. When it appeared in October 1955, the song became a hit with both black and white kids. Richards became a star.
But in 1957, he gave up music for religion. After a performance in Newcastle, Australia that October, he suddenly found God again. Legend has it that he then threw his rings into Newcastle Harbour as he renounced the trappings of his wicked ways. Apparently, he'd become spooked by a rough plane ride between Melbourne to Sidney and then by a red fireball in the sky (which apparently was Sputnik 1 burning up in the atmosphere). Then when he read that his original flight back to the US had crashed (Richard returned home ten days earlier than planned), he concluded that God was telling him to dump rock and roll.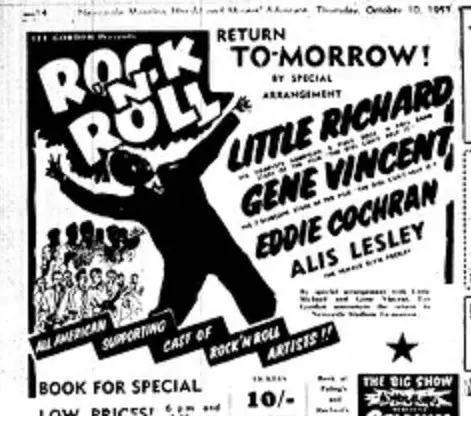 He eventually became an ordained minister who sang and recorded gospel songs. That lasted until 1964 when he got back into rock in 1964. He stayed in the space until he died.
And even though he never had another top 10 hit after 1958, the list of people who list him as a seminal influence is insane: Elton John, David Bowie, The Beatles, Eric Clapton, Jimi Hendrix, Prince, Michael Jackson, The Rolling Stones, Elvis Costello, the Everly Brothers, CCR, The Kinks, Bruno Mars, Amy Winehouse–the list is nearly infinite.
Richard was very aware of his influence. He liked to refer to himself as "The Innovator, The Originator, and the Architect of Rock and Roll."
Back to the stage persona. The shrieking. The pounding on the piano (he stood up while playing, unlike everyone else except perhaps Jerry Lee Lewis). Wild clothes. The pompadour hair. The make-up. The sexual innuendos. No one in rock looked or sounded or acted like Little Richard.
Richard was most certainly gay and was quoted admitting so a number of times. He later then declared himself to be "omnisexual" before denouncing gay and transgender lifestyles in a 2017 interview.
Richard was inducted into the Rock and Roll Hall of Fame in 1986, the first year the hall opened. And "Tutti Fruitti" is in the National Recording Registry of the Library of Congress with the note his "unique vocalizing over the irresistible beat announced a new era in music."
His last years were spent in Nashville where he played periodically, even after hip replacement surgery in 2009. He was often brought onstage in a wheelchair. His last concert was on August 24, 2014, in Murfressboro, Tennessee.
Shortly thereafter, rumors of his death started to circulate online. They became so pervasive that in the summer of 2016, he had his lawyer put out a statement that he was still very much alive.
His cause of death has not been confirmed, but he was 87.