Adorable: 14 Year-Old Dave Grohl's Letter to his Punk Rock Hero
If you saw the Foos doc Sonic Highways, you'll remember the Dave's autobiographical episode set in and around Washington DC when he talked about all the music and all the bands that went into making him into who he is today.
A big chunk of that episode featured Dave's punk rock hero, Ian MacKaye of Minor Threat. Dave even wrote Ian some letters–one of which was just unearthed. Take a look.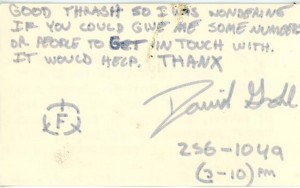 Read the whole story here.