Back to Eden(fest): The awesome and disastrous 1996 Ontario music festival
[Gilles LeBlanc remembers Edenfest, a weekend music festival at Mosport Park east of Toronto that didn't quite turn out as planned 25 years ago. – AC]
25 years ago, alternative rock was kicked out of an idyllic garden east of Toronto. Was it for eating forbidden fruit, or charging $5 for bottled water?
In the pantheon of "I Was There" events, Edenfest that took place at Mosport Park between July 12-14, 1996 definitely doesn't have the cachet among Ontarians of a Rolling Stones-starring SARSfest or the first-ever Blue Jays game. Probably because it ended on such a downer, what with the rumoured secret headliner for the Sunday never materializing (attendees heard at various times it might be Pearl Jam, The Smashing Pumpkins, Green Day, or Nine Inch Nails).
There was also the little matter of the burning garbage riots that predated Woodstock '99 three years later. This, combined with founder Mark Drost suffering a panic attack and having to be carted away in an ambulance ensured Edenfest would remain a one-off footnote in North American concert history. Drost going to jail for fraud didn't help the festival's future fortunes either.
I have never claimed to have been at Edenfest although in hindsight being 20/21, rapidly aging me would jump at seeing a lineup as good as this one was if someone was brave enough to put it on as we cautiously start to come out of the COVID-19 pandemic. Last I heard of Mark Drost, he was involved with hot yoga as a business. Glad he found a way of destressing after all the headaches things like 20,000 fake tickets used to get into the music paradise he worked so hard to create must have caused.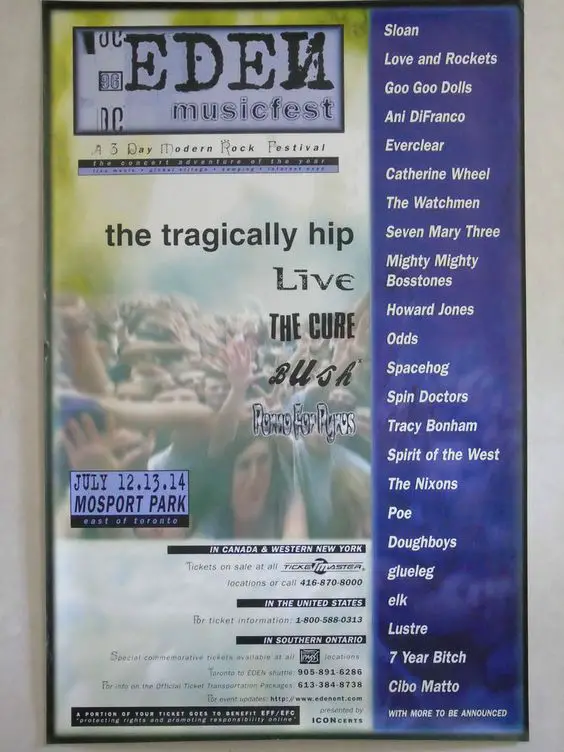 The still one-day touring edition of Lollapalooza was on the wane after a less than positive reaction to Metallica topping its bill in 1996. Its Toronto-area stop relocated to Canada's Wonderland of all places the next year from Molson Park. Drost pulled off quite the coup in my opinion to have gotten Lolla mastermind Perry Farrell's Porno for Pyros side project to jump ship, along with a perfectly balanced mix of talent from both sides of the border plus international imports he knew would go over well.
Like Robert Smith of The Cure in a Maple Leafs jersey, or Howard Jones' unforgettable orange jumpsuit. Yeah, Edenfest had logistical problems, but for the estimated 100,000 or so present (the majority of whom legitimately bought passes) it was the time of their lives and they are no doubt more disappointed in the fact the festival was never able to return than unfulfilled promises that weren't realistic to begin with.
Grunge may have fallen out of favour by 1996, but alternative in its purest form was arguably at a commercial zenith until nu-metal started to dominate. Ugh. I was never a fan of the (sub)genre, sorry. This playlist of acts who graced Edenfest's unsponsored main stage with the songs they performed most often that year was a joy to put together, not to mention relisten to.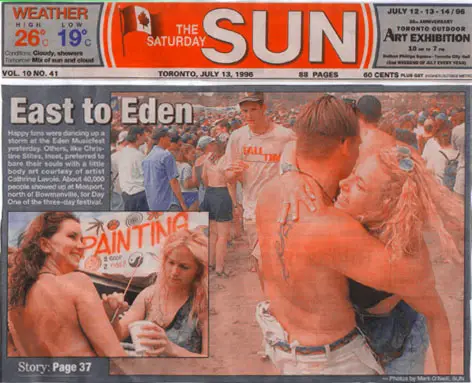 I still have no idea who or what Elk is, but you better believe I included Catherine Wheel's cover of the Rush classic "The Spirit of Radio" which I know they did as part of their set. Ani DiFranco in particular is awesome; she did not deserve the indignity of being the last performer at Edenfest before things literally went to hell.
One rumour you may have heard in the quarter-century since which is absolutely true is that the Edenfest website continues to exist, HTML frames and all. (Editor's note: Or at least it was. Can anyone provide a URL?)
Snarkiness aside, I should be so lucky if I'm writing about music I love 25 months from now, let alone 25 years.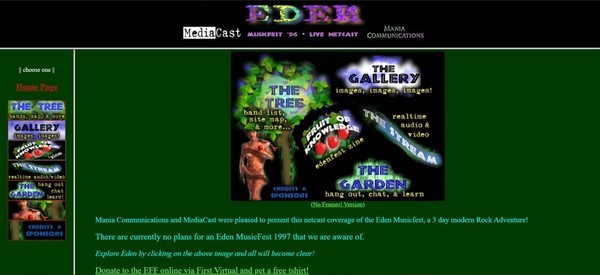 Editor's note: I was there for a couple of those days. I wrote up something about the festival on the 20th anniversary. There's also this article.
Friday, July 12
Main Stage
Second Stage
The tails
Lenny Jabor
Son
The Bogmen
Star Kicker
Merlin
Lotion
Saturday, July 13
Main Stage
Second Stage
Hoarse
Supergarage
Hell Billys
Muse
Ruth Ruth
7 Year Bitch
Letters to Cleo
Solution ad
Screamin' Cheetah Wheelies
Sky Diggers
Buzzcocks
Sunday, July 14
Main Stage
Second Stage
The Femmes
Jenny Anykind
Rain Still Falls
The Gufs
Blinker the Star
hHead