Bono's Hair Through the Ages
Bono has managed to maintain a head of hair throughout U2's career. Not all this fashion choices were good ones, though–at least not in retrospect. For example, who can forget this look c.1983?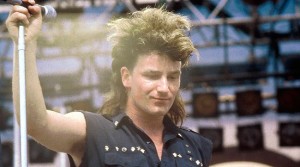 Or the mullet years of The Joshua Tree?
UPROXX has a whole gallery of Bono hairstyles here.
With The Edge, it's simpler. It starts here…
…and ends here.