"Delete Spotify" and #CancelSpotify pop up online
My sister texted me last night saying that she'd canceled Spotify in solidarity with Neil Young. She's not alone. Over the weekend, Spotify's customer service system was so overwhelmed that people were unable to cancel their subscriptions.
While #CancelSpotify is trending on Twitter, Apple Music, TIDAL, Deezer, and Qobuz have also capitalized on the fact that Neil Young's music is still available on their platforms. Meanwhile, SiriusXM Radio has launched a 24/7 Neil Young channel.
And check out this screenshot of the home back for 90s alt-rock band Belly.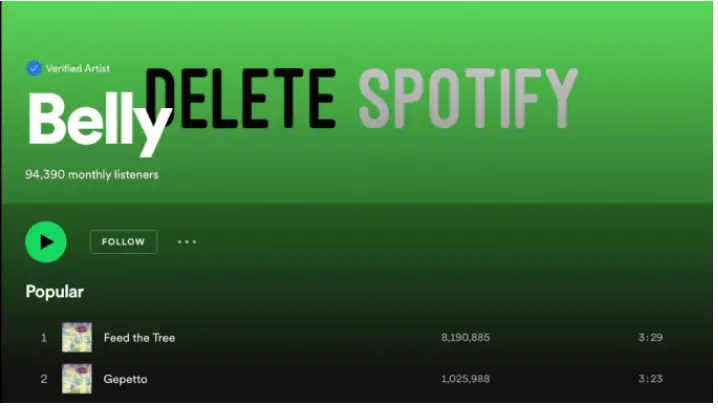 Here's Belly statement (via Variety):
"From the start, Spotify's business model has been to devalue creative work and underpay artists, while lobbying (along with other tech giants) to keep the regulations governing royalty payments hard in their favor and against artists. Turning around and using a big chunk of the money that ought to be distributed to artists to fund, and give a platform to disinformation- disinformation that may well prolong the pandemic and further hurt artists by limiting live-performance options- is finally too much. Yes, we believe in free speech, but we do not believe we have an obligation to help fund deliberate disinformation and doubt sowed to undermine the very notion of a collective, public good (and get underpaid in the process)." 
This story has waaaaay more legs than I expected. The snowball keeps getting better. And will this prove that music can still change the world for good?