So Which Genre Sold the Most Albums in Canada Last Year?
The other day I posted about how rock sold more than any other genre in the US. Of all the music sold in America, 29% was rock, about double that of pop, it's nearest competitor. Now (via FYI Music News) we have the sales breakdown for Canada. It's, um, a little different.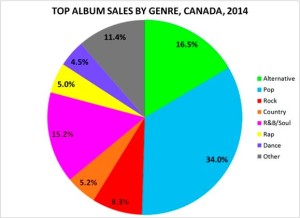 Interestingly, the Canadian numbers are broken out into alternative and rock. But added together, the figure is still just 24.8%, a full ten percentage points behind pop. Is Canada a pop nation? It looks like it.  Or is it?
For example, where would you put Lorde or Coldplay? They started as alternative acts but ended up as pop hits. Does the "other" category include singer-songwriters who might otherwise be lumped into "indie/alternative?" We can assume that EDM fits into "dance," but are there any records that should better be slotted as "alternative?" Or even "pop," for that matter. When you start asking those questions, the numbers potentially get a little more fuzzy.
On the other hand, the chart (via Canadian Music Blog) shows that Canadians sure like variety,