Here are a Couple of Interesting New Online Music Offerings/Apps
Let's start with Fradio, an app that allows you to channel your inner DJ to broadcast songs to your friends or fans.  For you radio types, yes, you can talk over the intro and hit the post. It's available for both iOS and Android.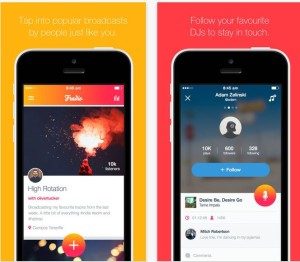 Next, there's Merchbar, a retailer for music merchandise of all sorts, from Bowie to Beck and beyond.  They have a new product called Merch Alerts which lets fans know when new swag is available from their favourite artists.
From their press release:
Miss out on the hot Playboy Sweater Beyonce wore in her 7/11 video? Was the store sold out by the time you heard about the new Nicki Minaj Pinkprint Merchandise? Find out there was an amazing Anthrax shirt months after its release? Wish there was a way to find out when new One Direction shirts become available?
Never again.
Merchbar, the leading music merchandise website, launched a new service to help fans stay on top of all the new merchandise released by their favorite artists. The program, called Merch Alerts, is being released in in Beta today and provides fans with one simple and elegant system to track new merchandise releases from their favorite artists.
Get the app here.