I Got Bleached at Jamaica's Reggae SumFest
[Note: An edited version of this story appeared in the Metro papers across Canada. They only give me 400 words, so I thought I'd offer up the full goods here. – AC]
[MONETGO BAY, JAMAICA]  "Is you here fi Reggae SumFest? It's de greatest show on earth!" The cabby flashed me a smile in the rear view mirror.
"Yep. First time, too. Never been to Jamaica before for some reason. What can you tell me about the festival?"
The cabby paused for a second and then smiled again. "It's de greatest show on earth! You gon get bleached!"
"'Bleached?'"
"Stay up all night wid de music, mon!"
He wasn't kidding. Over 23 years, Reggae SumFest has grown into a massive week-long, sponsor-draped festival at an outdoor space called Catherine Hall near downtown Montego Bay. It draws visitors from all over the world, mostly for the final three days. The Jamaican Tourist Board–quite possible the most hospitable people in this arm of the Milky Way–been invited to take a look. Since my knowledge of reggae didn't extend much beyond listening to Bob Marley drinking while Ting and Appleton, this seemed like an opportunity to expand my musical horizons.
I was about to get seriously schooled.
Thursday was devoted entirely to dancehall, traditionally the most popular night. Performers worked to impress the crowd with their lyrical boasts, social and political commentary, Rastafarian praise, sassy, sexy (and sometimes downright filthy) exhortations along with any number of disses and counter-disses, all delivered in rapid-fire slang-filled Jamaican patois.
Starting at 9pm and continuing for ten straight hours, some two dozen performers (singers, dancers, rappers, toasters and flag-wavers, many in elaborate costumes) crossed the stage in front of a crowd that swelled close to 30,000, most of whom stayed to the very end.
I learned about Gully Bop, I-Octane, Calpleton, Demarco, Popcaan, Gaza Slim, Konshens, Aidonia, Ding Dong, Dexa Daps. Massicka, Gage, Rhyme Minista, I Capri, Ishawana (who came out in a bedazzled nude body suit that caused gasps throughout the crowd) and Spice (who had a nifty Daft Punk-like robot costume.)
It was 5:50 am when Lady Saw, the first woman to close dancehall night (a giant honour), began her raunchy, provocative and completely blistering set.  Here's a quote: "Mi bad like that…Mi can open the show and mi can close it!"
No idle boast, either. The papers were full of praise for her for the next couple of days.
By the time it was all over, I realized I'd been subjected to my first bleaching.
My second came Friday.
Local performers offered everything from roots reggae to more contemporary interpretations before appearances by rapper/poet Common (solid) and T.I. (a crowd favourite). With opening act Oriel starting the night at around 9:30, the crowd was treated to Kareen, Raging Fyah (I liked them), Keznamdi, Jesse Royal and Kabaka Pyramid. By the time Cocoa Tea wrapped things up, parts of the breakfast buffet back at the hotel had long grown cold.
Along with several more flavours of reggae (dub-y, jazzy, funky) from groups like Persons of Interest, Dwayne Antonio, Zhavea and Lust, the Saturday card also featured Yazz (the snotty son on Fox's Empire)…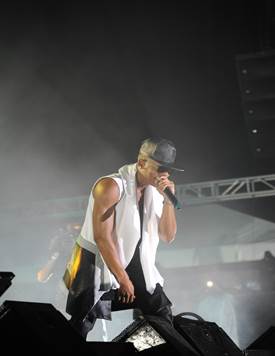 …and the big get, Jennifer Hudson whose hour-long set began sometime around 2:30 am.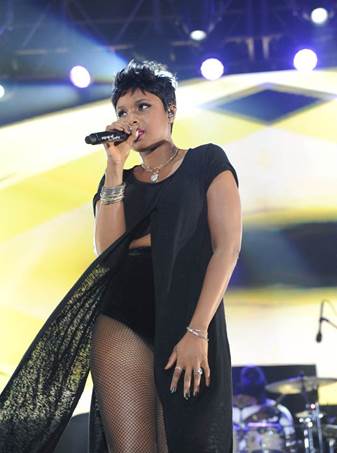 When Beenie Man closed the festival Sunday morning, some Mobayers were already on their way home from church. Meanwhile, tens of thousands leaving Catherine Hall were wishing they had brought their sunglasses.
The only thing more impressive than the music were the people I encountered. With tens of thousands of people at the festival, I statistically should have met at least one grump. Nope. Not one. Everyone was amazingly friendly. Insanely friendly.
As I staggered towards the press bus Sunday morning, a local asked if I'd had good bleaching.
Yes. Yes, I had. Three of them, in fact.
He smiled. "See? It's de reggae. Always trust de reggae. Blessings always, mon."
[I was the guest of the Jamaican Tourist board. Thanks to Lyndon and Essie for the unbelievable hospitality. They even let me try an overproof rum called Charley's JB when we had lunch at Scotchies. Not recommended for rum rookies. Trust me. Meanwhile, DO try the jerk pork at Scotchies.]
Additional coverage here, here and here.