It was 25 years ago this month: The Great Britpop War
If you were around in the summer of 1995 and into British music, you'll remember this as the time when the Great Britpop War reached its peak.
In one corner, Blur, one of the first of the big Britpop bands. They were university boys from the south representing London. In the other, Oasis, the snotty working class lads from Manchester were bent on world domination. Unlike previous rivalries (think Beatles vs. Stones), this feud was real. And it was personal.
In the beginning, everyone was friends and praise went in both directions. But then things soured, thanks to lots of coke and (allegedly) Blur's Damon Albarn hitting on Liam Gallagher's girlfriend. From that point on, it was war. And the result was a chart battle for the ages.
Oasis, coming off the massive success of their debut album, Definitely Maybe, was ready to release "Roll With It," the first single from what would be the (What's the Story) Morning Glory record on August 14, 1995. It was a shoo-in for an automatic number one debut. Blur, who had a new single called "Country House" already on the schedule for later in the summer. Albarn wanted to teach Oasis a lesson, so he had Blur's single moved up to August 14, too.
It was the North vs the South. It was the working class vs. the posh types. There could only be one Number One. Who would get it?
Egged on by the British music media, people chose sides. The British newspapers also got into it.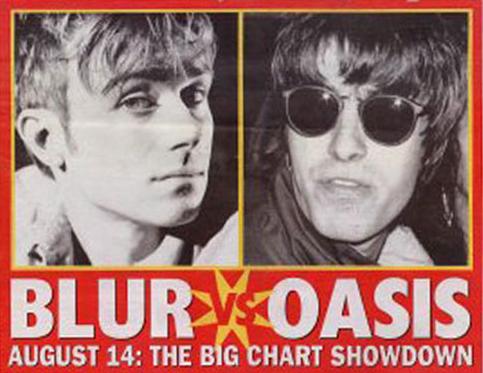 Even the BBC started covering the story.
The record-buying public in a frenzy by the time the appointed day arrived. The following week was the biggest for record sales in the UK in more than twenty years. And when all the dust cleared, the winner was Blur, who moved 274,000 copies of "Country House." And remember that this was pre-Internet. We're talking about physical copies here.
Oasis ended up in the number two spot, selling 216,000 copies of "Roll With It."
Blur had won the battle but Oasis would win the war. The next Blur album, The Great Escape, did very well after it was released on September 11, 1995. But (What's the Story) Morning Glory became a global phenomenon when it came out on October 2, eventually selling 22 million copies.
Everyone has since kissed and made up. But man, it was vicious in the summer of '95…