KURT COBAIN FOUND! Oh, Wait. It's Not Him. I Think.
Kurt! We were so worried about you! Thank GOD you're oka–oh. It's just some nut.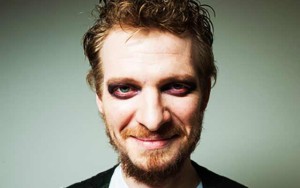 Meet, er, Kurt Cobain. He's from Seattle and he says he's not dead yet.  I quote from Stuppid.com
"It [suicide] was a way to get the media attention and all the stupid fans off my back so I could live in peace," Cobain said. "But now I miss all the awesome attention and I want my career back. I want to make money. I want to rock.
"I'm 27. I never aged. I found a special plant in Alaska that I smoke daily that prevents physical aging. I'm ready to rock."
It gets better. A new, um, Nirvana album entitled I Did NOT Kill Myself… I'm Alive.
"This new Nirvana album is my most rockin-est yet. I'm recording it myself in my condo studio. Dave [Grohl] and Krist [Novoselic] didn't get back to me about playing, but that's okay. I know they're busy dudes. So my mom's playing drums and my neighbor's playing bass. They're both awesome musicians. My dog's even barking on it."
Huh. Imagine that.
And there's even more. Go here for the rest of the nonsense. I like the bit about how he and Courtney are still together.