Nielsen Tunes Into Canadian Music Fans
[Here's a report on the latest survey of Canadian music consumption by occasional contributor, Gilles LeBlanc. – AC]
You probably don't need a hoity-toity research study to tell you Canadians love to listen to music.
The Nielsen Canada Music 360 Report is anything but pretentious, instead providing excellent insights into the behaviours of consumers such as streamers and festival attendees.
The world-renowned market research firm just released the fourth annual edition of its music-focused  survey; since 2014 Nielsen Canada has interviewed nearly 8,000 people to find out how much and how often they are engaged with music. A projected 93% of Canadian adults 18 years of age and older listen to an average of 32 hours in a typical week. This is actually up +4% and +33% from the year previous, respectively.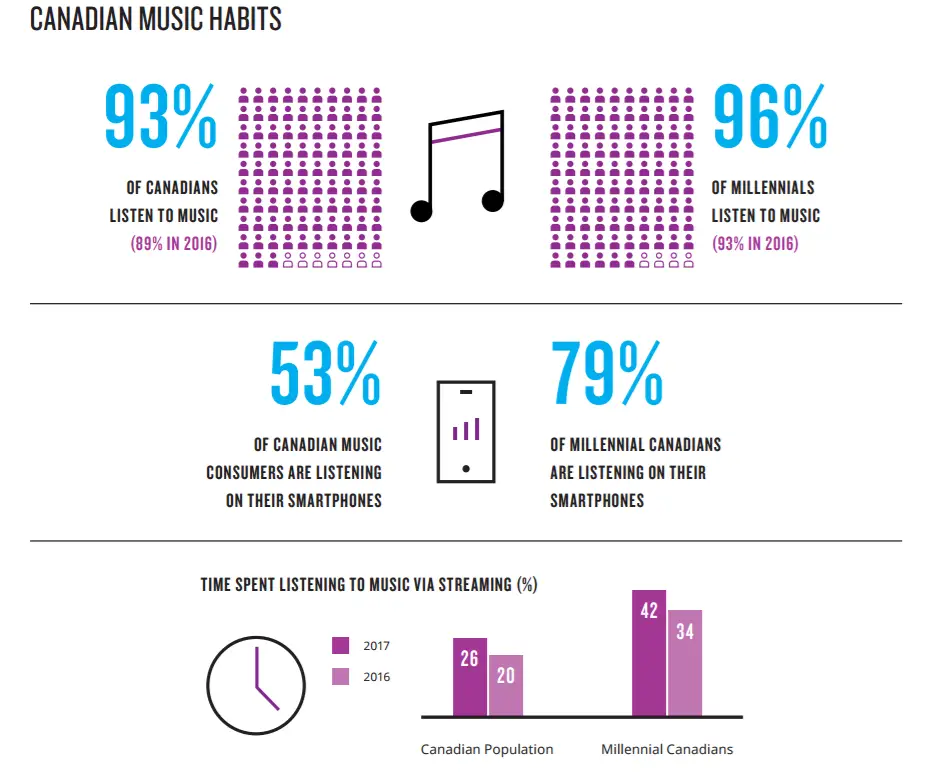 Not surprisingly, smartphones have become the dominant method of music delivery, especially by the much sought-after millennial demographic where almost 80% use their device for this purpose. Millennials are more likely to listen to music online, although radio overall remains the most used format. Radio is also how more Canadians discover new music. Social media and tastemaking friends or relatives are gaining ground in terms of such influence, while those ever-present millennials seem to prefer apps like Spotify.
When it comes to music services, YouTube is king among Canadians by a significant margin. Cost is the biggest barrier to premium-type streaming according to a third of Music 360 respondents, with $9.99 a month apparently still too high a price. If current non-subscribers were to switch over, the aforementioned Spotify has the highest top of mind awareness, following relatively closely by Google Play Music as well as Apple.
Live attendance is up +11% over the 2016 results to 81% seeing some sort of concert. Word of mouth from people whose opinions about what's hot appears to be key here, not to mention traditional media venues (radio, newspapers, TV). Millennials tend to be the ones who will eschew convention and rely more on social outlets to network with peers and connect directly with their favourite artists. Festival consciousness is even asked – There is a wide range of events across the country Canadians have heard of, ranging from Calgary Stampede and both the Toronto and Montreal Jazz Festivals down to Boots and Hearts and the recently-cancelled Pemberton Music Festival.
The only real criticism I have is it would be nice to view comparables from Nielsen for other countries, as organizations like Music Canada are continually trying to boost our collective presence worldwide. Research rocks as I always say, and the Music 360 Canada Report definitely proves this. Read more for yourself here.