No, the Foo Fighters Aren't Breaking Up, But They Are Taking a Break [UPDATE with the Actual Hilarious Announcement Video)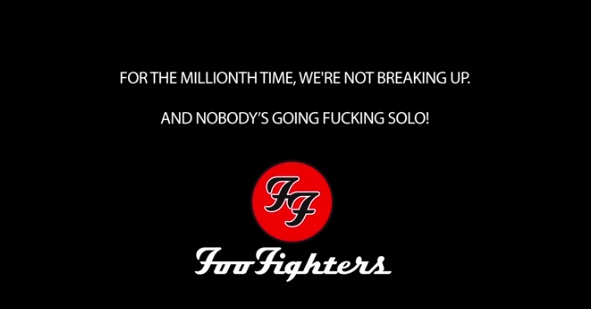 The Foo Fighters have been going full tilt since early 2014. There was the Sonic Highways project for HBO and the album that went with it. There was the tour, the broken leg and the Dave of Thrones resurrection followed by the Saint Cecilia EP. It's been nonstop.
It's been nonstop and certainly a logical time for a break. But then came this tweet Tuesday.

Wild speculation followed. Were the Foos breaking up? Was Dave going solo? Was the rest of the band (read: Taylor Hawkins) in open rebellion?
No, no and no.
The Foos are simply going on an another "indefinite hiatus," which, when you look the career of any veteran band, is standard operating procedure after a long recording and touring cycle. A group like the Foo Fighters has earned the right not to have to follow a label's schedule when it comes to the next album. They'll get back to work when they feel like it.
Or rather, they'll get back to work when Dave feels like it.
Yes, the band appears in public as a gang of equals. But make no mistake: Dave Grohl is the Foo Fighters and the Foo Fighters are Dave Grohl. If he wants to go off and do something else on his own–write film music, try some producing, do a swing through coffeehouses doing the singer-songwriter thing, go back to being a drummer in another group, whatever–he's entitled to it.
And they've done it before. Remember the break that came after 2008 when the Foos were off the road for three years?
But wait: What if this is whole thing is a punk by the Foo Fighters? They've played pranks on fans and the media before.
Here's Taylor pre-empting any official announcement in an interview on Wednesday. Fast forward to about the 5:10 mark to get his comments on the hiatus. (Via Consequence of Sound)
Got that? (Hmm. I'm a bit suspicious. Could that have been part of the whole skit?) Now here's the official Foos announcement delivered with typical Foos humour. And yes, that's Nick Lachey of 98 Degrees auditioning as the new singler.
God bless the Foos. All is right in Foo world. We can relax.
Rush, however, is a little pissed. From Twitter.