Photos and a review of Milky Chance in Ottawa
[Another report from Ross MacDonald and Karen Coughtrey from Ottawa. – AC]
On the hot sticky night of May 29th in Ottawa, a queue appeared early in the evening of young eager fans waiting to get in to see Milky Chance and opener Mallory Merk at the Bronson Centre Music Theatre, a sold-out show.
Mallory Merk is a singer/songwriter and model from New York City. She received no introduction but immediately had the crowd's attention with her beautiful voice, ear pleasing mellow yet somehow lively songs, and unique style.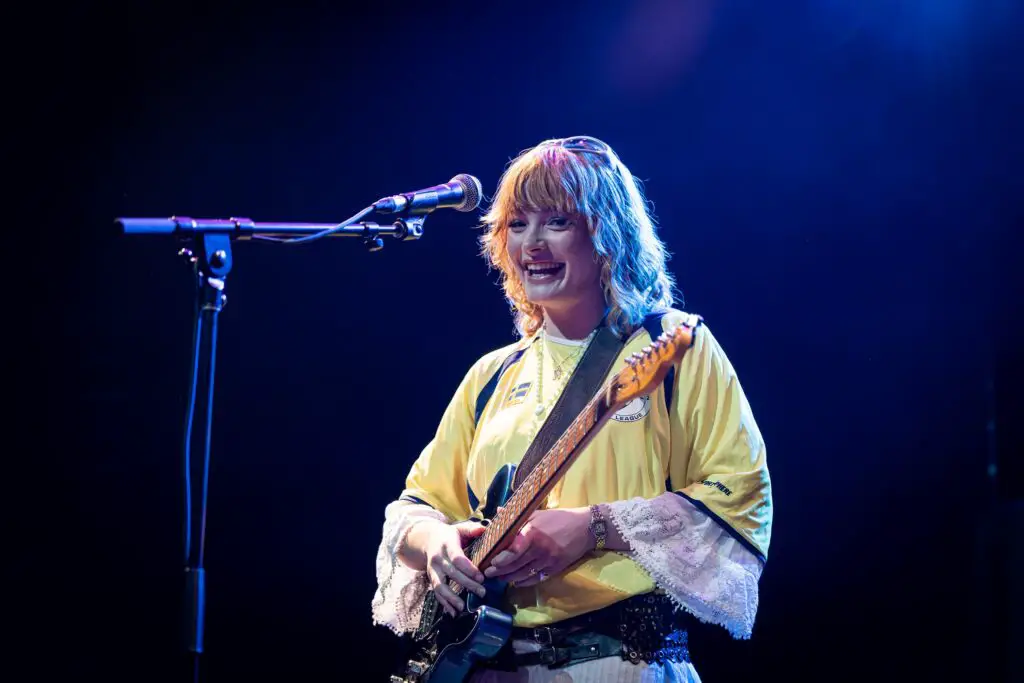 It is Mallory's first time in Canada and her first night opening for the Milky Chance Summer Haze tour. She appeared on stage alone with her Telecaster guitar in a lemon yellow jersey with a Swedish flag patch on one side of the chest and an Ottawa Carleton Futbol League crest on the other. One could only wonder if she or her people had been in town on the weekend for Ottawa's most infamous garage sale, the great Glebe garage sale, to pick up such a unique local garment.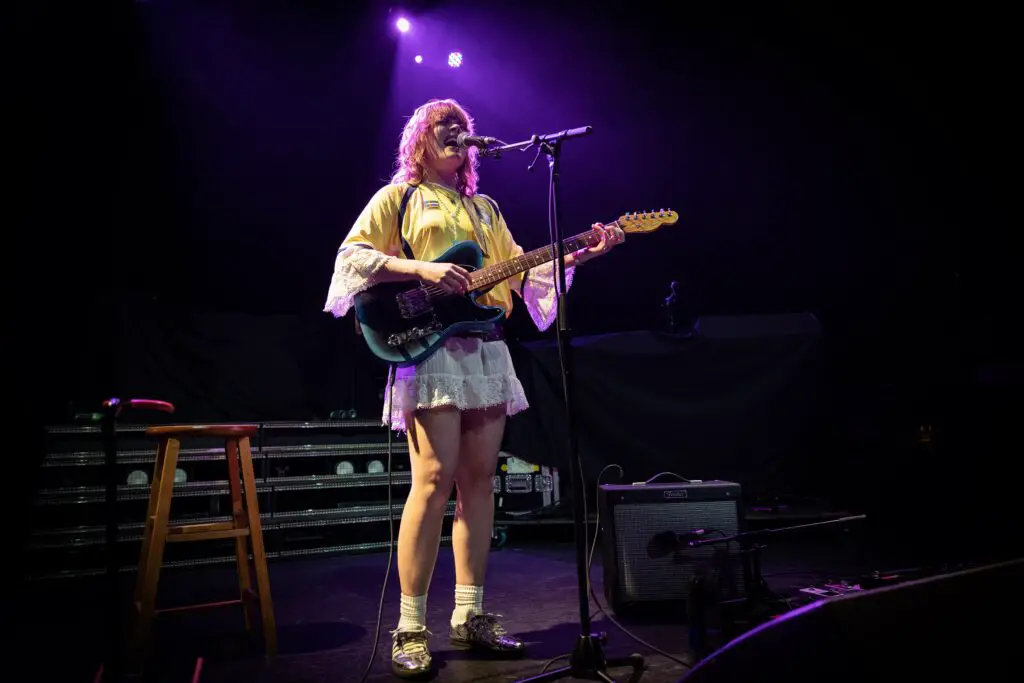 Mallory opened with 'Strangers,' and then played 'Ghosts' a song about fake friends, followed by 'Level Up,' a song about doing your best; before launching into a wonderful cover of Fleetwood Mac's 'Dreams'.
"You guys are such a great crowd!" she declared before asking the crowd to sing along on her song 'Isolate Myself,' knowing full well that the enthusiastic (and now feeling superior) audience would oblige.
She told the crowd they could find her everywhere, and likely more than one new fan will be looking up her music and socials as her set was all of beautiful, captivating, relatable, and fun.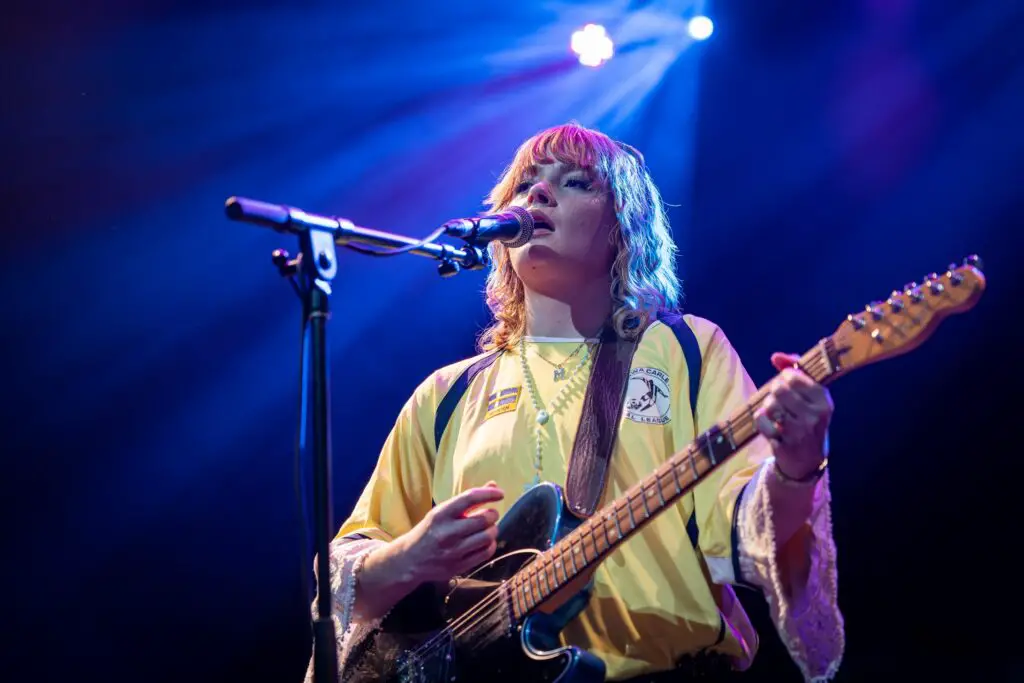 Mallory could be found throughout the rest of the night at the merch table meeting fans. She told A Journal of Musical Things that she had been excited to visit the capital of Canada to see how we represented our country through our capital city and said we'd lived up to her expectations and that everyone so far had been very kind and generous.
Germany's Milky Chance is a group consisting of Clemens Rehbein and Philipp Dausch, two friends from their high school days in Kassel (and two other band members) now 10 years into their musical journey. It can be difficult to pin down Milky Chance's musical genre. As modern alt-rockers, they aren't afraid to mix thumping baselines and keyboard melodies in with their guitar riffs; they are continuing to be known for reinventing rock music. They also needed no introduction as they appeared suddenly on stage in a flash of blue light to massive applause. They opened with 'Synchronize' an energetically groovy number off their upcoming album Living in a Haze which drops next week on June 9.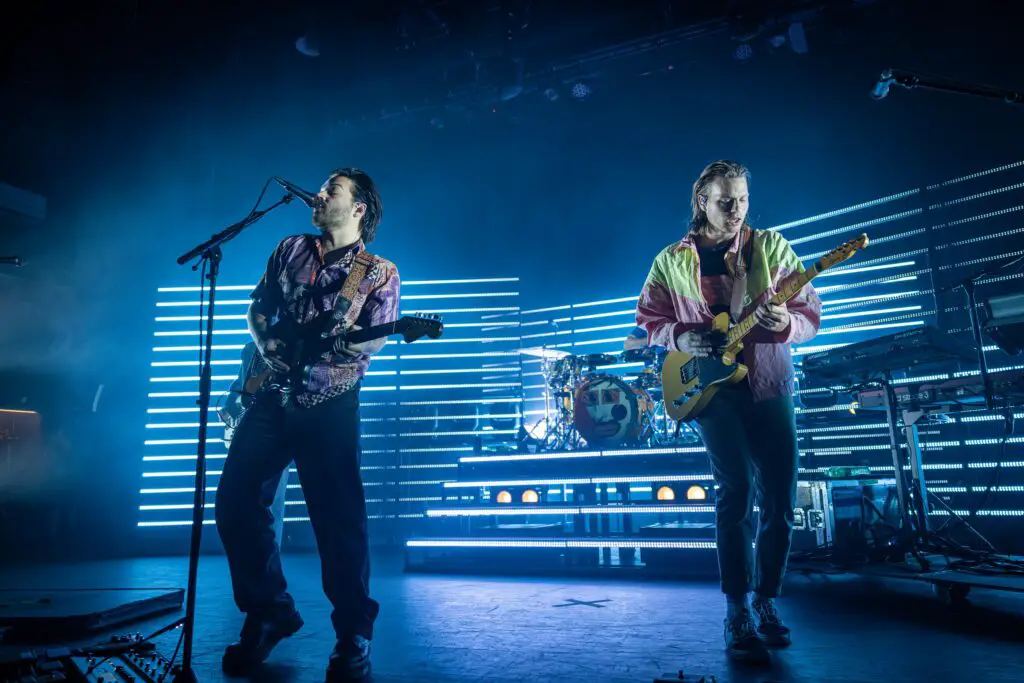 Only six songs on the album have been released so far, of which they played the title track 'Living in a Haze', 'Golden', and 'Frequency of Love'. 'Colorado' was included in their encore set and is clearly a fan favourite. Even though it wasn't the last song of the night, many fans were singing it as they walked away from the venue at the end of the night. One can only wonder what an incredible experience it will be to hear that song played live in front of a sure to be a lively and adoring crowd when the Summer Haze Tour stops at the Red Rocks Amphitheater outside Denver, Colorado at the end of August; a show which will also be featuring Ottawa's own rising star Talk.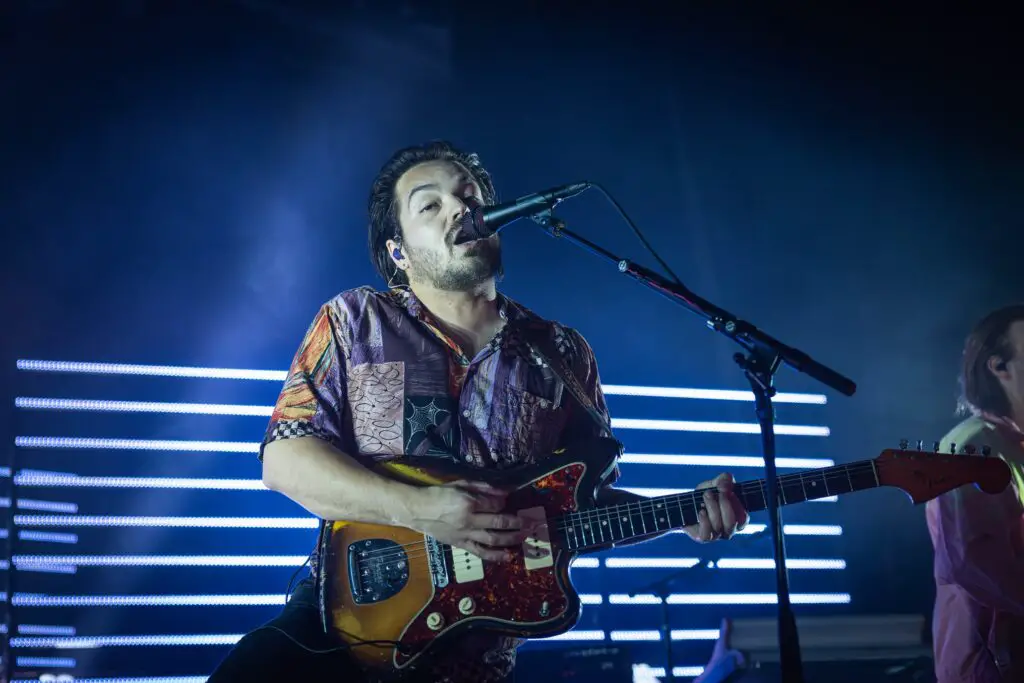 The night also included a first listen to songs yet to be released off the new album. They played 'Feeling For You' which was very well received and 'Better Off' during which the lights changed to the pale pink and blue stripes of the Trans Rights Flag which may have been coincidental, but seemed likely intentional considering the lyrics and tone of the song and the current political landscape.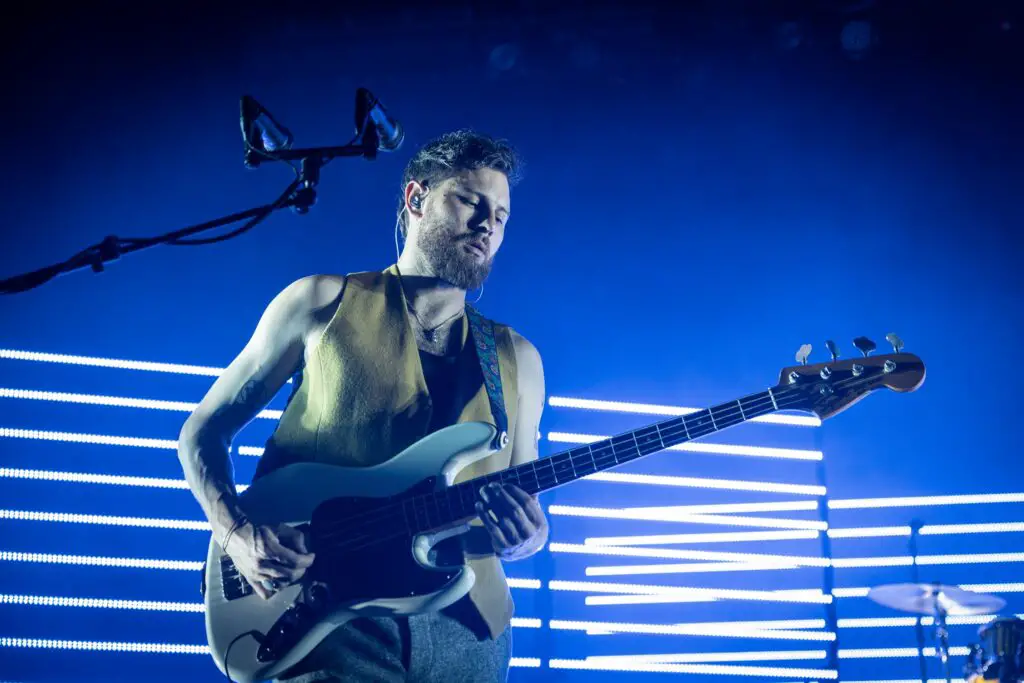 Early in the night Milky Chance declared they were happy to be back in our beautiful city. They were here before? Ah yes, they were on the lineup of last year's summer music festival Ottawa Bluesfest; however, they had the unenviable luck of playing on the same date and in the same time slot as Rage Against the Machine. Fans who escaped the massive crowds at that main stage show and took in Milky Chance's show on the other side of that festival would insist that Milky Chance put on the better show that night. And with the performance they put on and the reception they received tonight in Ottawa, it's not hard to believe they were right.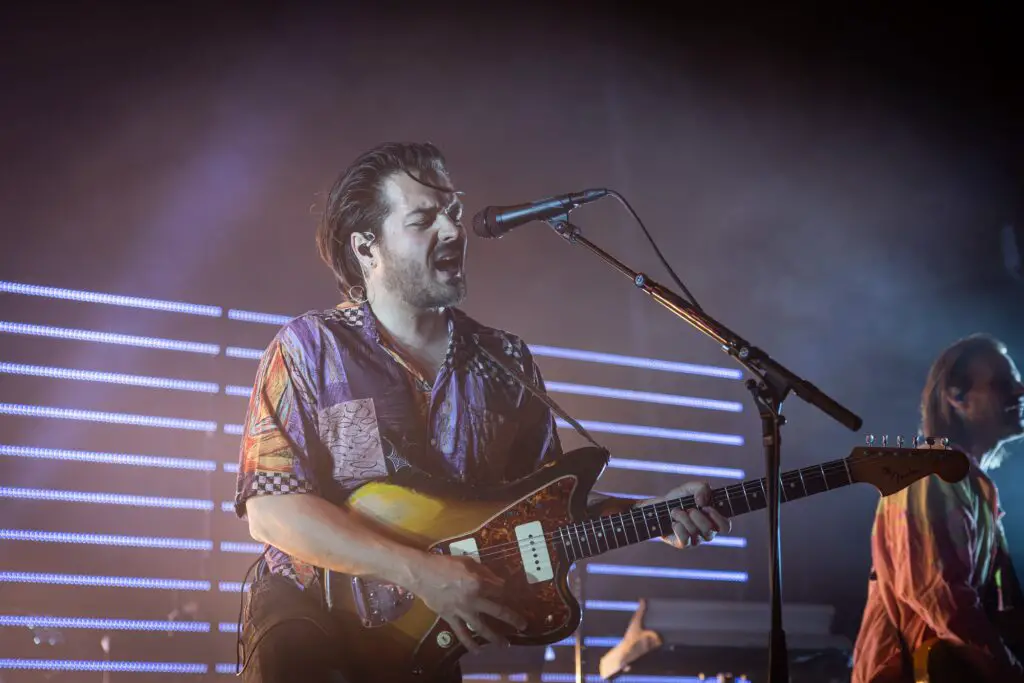 Fans who missed out on tickets might be wishing they were on the Bluesfest lineup again this year but the lucky fans who got in were treated to a show with the same set list, lights, and energy of the two massive outdoor shows the band kicked off the tour within Quebec City but the smaller venue allowed for a special intimate feel to the night.
Sandwiched between two fantastic covers: 'Tainted Love' made famous by Soft Cell, and Culture Club's 'Do You Really Want to Hurt Me' (both of which are included on previous albums of theirs) they played their song 'Fado' on which Phillip joined Sebastian on drums and Clemens joined Antonio on keys.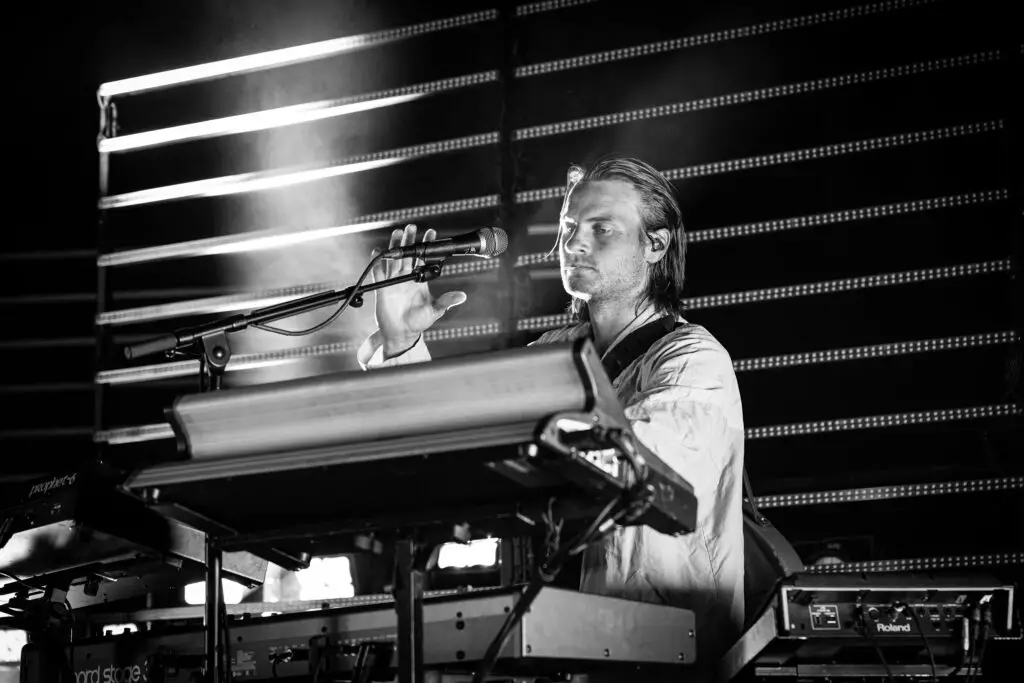 They ended their main set with their megahit 'Stolen Dance' but ended the encore set on a different note with 'Sweet Sun' on which Antonio was featured on the harmonica much to the crowd's wild delight. It was clear the audience didn't want the night to be over as many stuck around and the band did too, spending time saying goodnight and connecting with those still hanging out close to the stage in the crowd. It was a really special night as both artists provided great entertainment they've likely done many times before while making the audience feel seen and appreciated, and the experience feel personal and unique to this evening and location.
Milky Chance
Clemens Rehbein: lead vocals, guitar
Phillipp Dausch: bass, guitar, keyboards, backing vocals
Antonio Greger: guitar, keyboards, backing vocals
Sebastian Schmidt: drums