Rage the Machine is going after scalpers with their new world tour
On the heels of Pearl Jam teaming up with Ticketmaster to keep tickets for their Gigaton tour out of the hands of ticket brokers, resellers, and scalpers, Rage Against Machine has their own plans.
Ahead of tickets going on sale tomorrow (February 14), Rage issued this statement.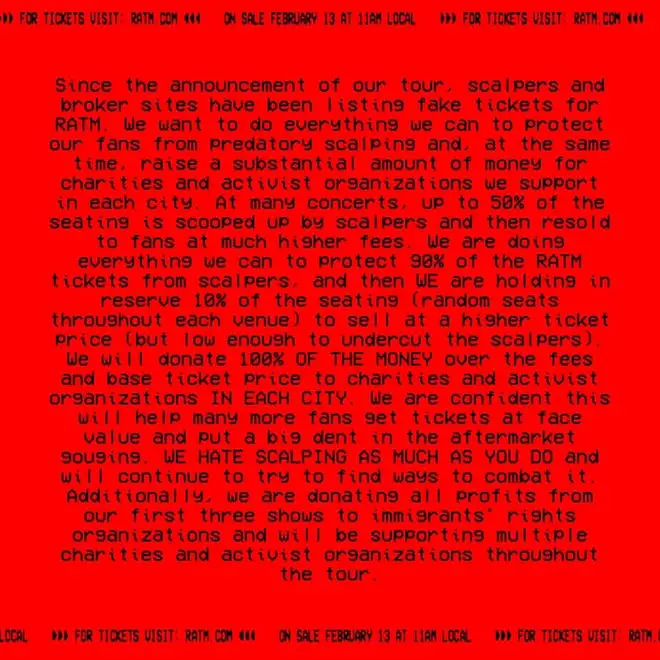 "Since the announcement of our tour, scalpers and broker sites have been listing fake tickets for RATM. We want to do everything we can to protect our fans from predatory scalping and, at the same time, raise a substantial amount of money for charities and activist organizations we support in each city. At many concerts, up to 50% of the seating is scooped up by scalpers and then resold to fans at much higher fees.
"We are doing everything we can to protect 90% of the RATM tickets from scalpers and then WE are holding in reserve 10% of the seating (random seats throughout each venue) to sell at a higher ticket price (but low enough to undercut the scalpers) We will donate 100% OF THE MONEY over the base ticket price to charities and activist organizations IN EACH CITY.
"We are confident this will help many more fans get tickets at face value and put a big dent in the aftermarket gouging. WE HATE SCALPING AS MUCH AS YOU DO and will continue to try to find ways to combat it. Additionally, we are donating all profits from our first three shows to immigrants' rights organizations and will be supporting multiple charities and activist organizations throughout the tour."