When I was still in high school, I became absolutely entranced with FM, the proggy Toronto three-piece that featured a multi-instrumentalist wrapped up like Claude Raines in The Invisible Man.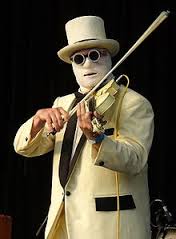 I wore out at least two copies of their Black Noise album from 1977.
Killer stuff for the era.
After Nash left FM, I occasionally checked in with what he was doing as a solo artist.  He founded Cut-Throat Records, arguably one of the first Canadian indie labels designed to release material and swag from one artist to the general public.  He also sued Pepsi for a million dollars for "misappropriation of personality," which went all the way to the Ontario Supreme Court.  He won the case but wasn't awarded any money.
One of the weirdest records I have in my library is his Decomposing mini-record from 1981 that was written and recorded so it could be played at any speed (33, 45, 78) and still sound good.
The biggest thing Nash ever had to a hit was his '84 release, American Band-Ages which featured covers like this.
After that, his output slowed considerably, although he'd pop up every once in a while with a new release or some contributions to a movie soundtrack.  And then in 2012, he announced his retirement on his website.
From then on, Nash was just plain Jeff Plewman.  No more bandages wraps.
Today (May 12, 2014), family announced that Jeff had died of undisclosed causes at the age of 66.  Damn. He was one of the good ones.
As soona s I get home, I'm going to dig out my Black Noise CD.  Or I might grab my Children of the Night vinyl.