Rock My World Canada, chapter 166: Junior Boys
[Mike Carr has created a catalogue/reference work featuring all kinds of Canadian rock and alternative releases from the past few decades. Check out his a massive volume on Canadian music history entitled Canadian Alternative & Indie Reference and Collector's Guide. It's an incredible discography of hundreds of bands. See below to see how you can help him achieve this.– AC]
Junior Boys are an electropop group, founded in 1999 in Hamilton, Ontario by Jeremy Greenspan and Johnny Dark. Dark left the project shortly after, and was replaced by engineer Matt Didemus. The duo have since released five albums to mostly favorable critical reception. Almost a year after its initial release So This Is Goodbye was re-released as a bonus edition including the original album, and remixes from the singles and the live tracks from the iTunes session. On 10 July 2007, Junior Boys second album was revealed as being on the shortlist for the 2007 Polaris Music Prize.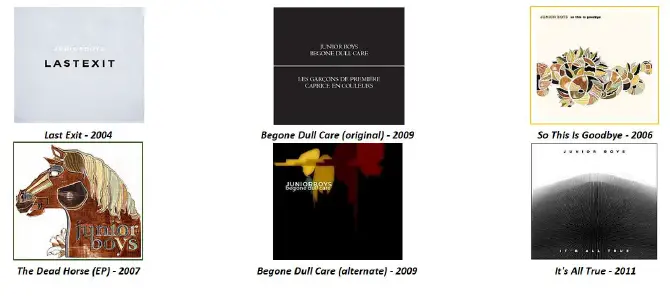 Find out more about this artist and hundreds of other Canadian artists in the softcover edition of Canadian Alternative & Indie Reference and Collector's Guide. Get your copy here. Follow Mike on Facebook and Twitter.
Help Mike continue his work by becoming a Rock My World Canada Patreon patron. Support Canadian music history!