Smartphone Ownership is WAY Up. What Does This Mean for Music?
Back in 2008, I gave a talk at an AdWeek conference in New York where I spoke of the coming critical mass of smartphone connectivity. At the time, I think fewer than 30% of us had smartphones. But the adoption rate was massive.
"When enough people have smartphones in their hands, we're going to see consumer behaviors that we never, ever expected," I said.  Well, the era of critical mass is here.
According to a new Pew Research poll (via RAIN), 85% of American between the ages of 18 and 29 have some kind of smartphone. That's followed closely by those 30 to 49 at 79%. That's a lot of always-on Internet-connected computing power in the hands of an awful lot of people.
So how are people using their devices? Could we have predicted the following?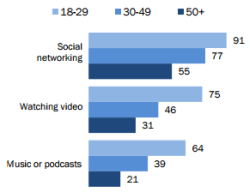 That the younger demo group uses their smartphones for music should come as no surprise. But even a fifth of the Luddite-prone 50+ demo are into that same headspace. The average usage across all groups was 41%. See why streaming is taking off?