The Jack Layton Funeral Playlist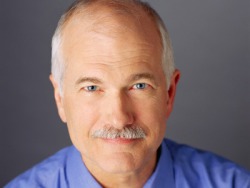 Just one look at the papers today will tell you how much of an impact Jack Layton had on Canadian politics. Tributes continue to pour in.
Earlier today, I asked for suggestions for musical tributes. What songs would be most appropriate for a Jack Layton Memorial Playlist? Here's how you responded.
Dan (via Facebook): "I Will Follow You into the Dark" – Death Cab for Cutie.
Adam (via email): (1) "The Wreck of The Edmund Fitzgerald"/(Gordon Lightfoot). This song exemplifies how Canadians face real danger; with a sense of hardened determination that runs through us all. Jack possessed this quality and used it to promote national solidarity. And (2) "Courage"/The Tragically Hip. This one is obvious; iconic band, quoting an iconic Canadian author, describing an iconic value of life; that to live in the midst of our own consequences is tragic, but to have the courage to do so is bigger.
Emily (via email): If anyone hasn't suggested it yet, you need to make sure Barenaked Ladies' "Call and Answer" is included on your list. Steven Page, as far as I know, is a card carrying member of the NDP, and the entire band was more than happy to campaign for Jack during his elections.
@busker_bristol (via Twitter): John Lennon's "Working Class Hero" or the Green Day cover.
Andrew (via Facebook): "In a Little While" by U2 or "Moment of Surrender" by U2. [Note: It's said that Joey Ramone passed while listening to "In a Little While.]
J. Adam (via email): "My Hero," the acoustic version, by the Foo Fighters.
Emily (via email): "Turn" by Travis and "Nobody Does It Better."
Mon.scherie (via email): "Please Set Me Free" by Rabble. My friend says that Rabble was a favourite band of Jack's.
Christine (via Facebook): Rabble, "Please Set Me Free."
Brad (via email): "Ahead by a Century" by The Hip, "A Well Respected Man" by the Kinks and "The Fight Out of You" from Ben Harper and the Innocent Criminals.
Reggie (via Facebook): Anything by the Clash.
Megan (via Facebook): The Byrds, "Turn, Turn, Turn"
Kirsteen (via Facebook): "From a Jack to a King" by Jim Reeves.
Angie (via email): Pearl Jam, "Man of the Hour"
Cheryl (via Facebook): kd lang's version of "Hallelujah."
David (via Facebook): A tad corny perhaps but "Abraham, Martin and John." Dion's version.
Allen (via email): Not sure how appropriate it is but PInk Floyd's The Division Bell comes to mind for me. Such a shame we lost someone so great.
Matt (via email): "Heart of Gold" by Neil Young. Jack Layton had a heart of gold.
Curtis (via Facebook): "Satisfied Man" by Jeff Buckley
Jayce (via Facebook): "In My Life," the Beatles.
Jeff (via email): (1) "Here's the the Night, " Eve 6: My favorite song as a funeral song because its about good times and bad times but celebrates them all. "Here's to goodbye, Tomorrow's gonna come to soon" a salute to the past and time going much to quickly. (2) "Someone Great," LCD Soundsystem: Its about someone you may have argued or fought with but in the end you miss them and respect them. Perfect for Layton who fought extra hard for anything he believed in. (3) "I Won't Back Down," Tom Petty and the Heartbreakers: The title pretty much personifies Layton.
Phil (via email): Not sure if it would make your list, but yesterday evening my girlfriend and I listened (on full blast) "Strange Days" by Matthew Good Band in memory of Jack Layton. Its an emotionally driven song, which made us think and remember our favorite federal politician.
Marc (via email): "Kite" by U2 is an obvious choice, imo. With lines like "I want you to know that you don't need me anymore." or "Who's to say where the wind will take you?" and "The last of the rockstars." Wasn't Jack Layton a rockstar in Canadian politics? Not sure if we've got any of those left.
Mark (via email): Jimmy Eat World and "Hear You Me."
Chris (via email): I am cetain this will be a common recomendation, but I think "Working Class Hero" fits the bill nicely.
Shirin (via Twitter): Wondering the same thing. How about "Love Is the Only Soldier" by Jann Arden or "Angel" by Sarah McLachlan.
Kendra (via email): "Kite" by U2.
Amy (via Facebook): City and Colour, "Weightless" or "Hope For Now."
Raymond (via email): Not sure if it's necessarily appropriate for a funeral (cause it's too damn upbeat) but I can't think of another song that embodies Jack than Billy Bragg's "Upfield". If anyone had "a socialism of the heart" it was Jack.
Rebecca (via Facebook): "Imagine" by John Lennon because it embodies all that he stood for.
Adrienne (via email): Yesterday CBC Radio2 did a great segue about him into Barenaked Ladies 'Good Boy'. They talked about how Stephen was a huge supporter of Jack in his early bid for the leadership of the NDP, and how BNL played at an NDP rally. Literally made me cry on the way home (and I'm not an NDP-er!)
Mark (via email): So many Billy Bragg songs come to mind. "There is Power in a Union" seems to ring the most true
jszybalski (via email): "Salt of the Earth" by the Rolling Stones.
Ankur (via email): I was wondering if you'd add the song "In My Life" by The Beatles to your Layton playlist. I also think this is a cool subject to take on and you're the man for it! Jack was a musician and had a huge love for music. I think he would've really liked it.
Finally, one from Riona.