This Explains Why So Many Veteran Acts Won't (Can't?) Stop Touring
Another Rolling Stones tour? U2 is on the road again? The Eagles are playing "Hotel California" live on a regular basis? Why don't these acts just retire?
Answer: They can't. There's just too much money to be made–and this is the best way to make it.
Back in the day, an artist could live off the royalties from their back catalogue. A hit album was like an annuity that paid out year after year. All you had to do was go to the mailbox every six months or to collect your cheque.
The Beastie Boys cashed plenty of cheques for sales of Licensed to Ill which was one of the all-time best-selling catalogue albums. he surviving Doors never had to worry about money because all their records sold between one and two million copies a year. And even though Ringo was credited with just two Beatles songs, they made made millions and millions. Forensic accounting into the books of any major veteran artist will reveal similar stories.
That's not the case anymore. Want to maintain that rock'n'roll lifestyle? Record sales aren't gonna bring in enough revenue. Time to head back on the road where there's plenty of money to be made.
Billboard has this list of the top money-earners in music from 2014.  And guess where most of their money came from? Touring. And look how much of their income came from being on the road. Add this…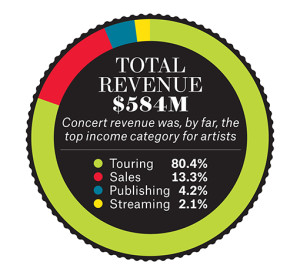 …to this.
Any more questions?  Get all the details here.