Tracklist For New Morrissey Album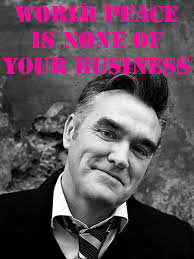 Mr. Moz has a new album coming out in July with what has to be considered a very typical Morrissey name.
World Peace Is None Of Your Business is due out in July and follows his very successful autobiography.
Here's the tracklisting:World Peace is None of Your Business
Neal Cassady Drops Dead
Istanbul
I'm Not a Man
Earth Is the Loneliest Planet
Staircase at the University
The Bullfighter Dies
Kiss Me a Lot
Smiler With Knife
Kick the Bride Down the Aisle
Mountjoy
Oboe Concerto
Read more here.