If You're in a Band, You Need This Book
Yes, everything starts with the music, but never, ever forget that 50% of the "music business" is "business," a dodgy place for anyone to tread. Unless you're acquainted with the procedures, language, legalities, accounting requirements, financial transactions, revenue streams, work permits, tax issues, performance pitfalls, promoter rip-offs, weirdo fans and assorted crooks (and there are plenty of those), you're gonna get slaughtered.
If you haven't been scared off yet, don't be. You'll be fine—if you believe that forewarned is forearmed.
It's essential that any artist surround themselves with the right people. Assembling a strong inner circle of trusted helpers, advisors and associates allows you to focus on the music while they take care of the business end of things. U2 is as big as they are because of the work put in by manager Paul McGuiness. The Rolling Stones' business organization is one of the strongest rock as ever known. Justin Bieber didn't get as big as he is just by posting a few videos on YouTube. If your inner circle is strong, your chances of becoming a successful artist increases exponentially.
This brings me to Bob D'Eith's new book.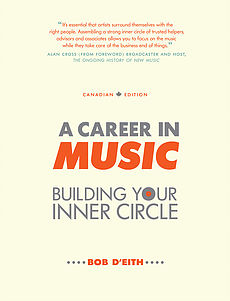 Bob has been doing work with Canadian indie bands for years through his association with MusicBC. This new book is a follow-up to A Career in Music: The Other 12 Step Program, which goes through all the essential things any group must know. Both books aim to help young musicians navigate the waters of the music business.
Pre-order the new book here.