7 Days, 7 Questions: Day 4
Let's explore some of this passion we have for music. All this week I'll be asking some questions, sharing my thoughts and, hopefully, hearing from you!
What instrument do you LOVE to hear in a song, and why? It can be something that maybe you don't hear enough of or something that you never get tired of hearing. Please share a song that you think of as the ultimate example, for you.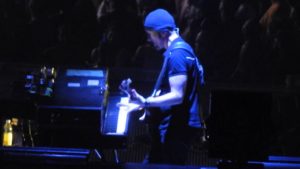 I'm an alt-rock and indie guy with a side of just plain old rock. You'd think that my obvious choice would be the guitar. And I do love me some good guitar work. That said, i love the surprise in a good rock song that pulls in and makes great use of a piano. It is definitely something that I don't see as much of as I'd like but it also needs to mesh really well into the song. And really, I prefer an actual piano to a keyboard version but as long as it sounds great, I'm easy.
So how about you?
This one is my prime example!