Action Bronson's "F*ck That's Delicious" Cookbook
We here at A Journal of Musical Things love Action Bronson. If music and food are life, he lives that in spades. The man enjoys all aspects of his life and is a talent! Having a new cookbook named after his incredible Munchies web series "F&ck That's Delicious" just seemed like the appropriate next step! He explains how food and music belong together:
Speaking to Action Bronson, the thick-bearded, 300lb tattooed Albanian-American rapper who has forged a second career as a gourmand TV presenter, it seems surprising that more musicians aren't foodies. Surfing from city to city on expense accounts, with plenty of free afternoons, life on tour offers a lot of scope for exploring out-of-the-way restaurants and eateries.
"Music and food go hand in hand," Bronson explains. "The dish in the middle of the table is like the song you put on for everyone to start grooving to. It's the language of the world, a way of bringing people together."
As he explains, for him the food came before the music. He grew up in Queens, New York, son of an American mother and an Albanian father. "My grandmother would be making food three times a day," he says. "Delicious Albanian delicacies, but I didn't appreciate it until I was older. I'd be eating hamburgers like a little prick." He worked as a chef, and even briefly did food TV himself, before an injury led him to focus on the music.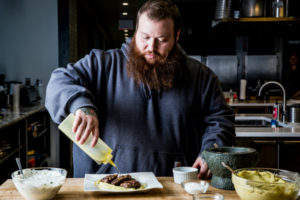 The cookbook itself sounds like a passionate tale of his journey:
Perhaps inevitably, given the millions of views it has received, the show has led to a cookbook of the same title, co-written by Rachel Wharton. In it, Bronson lists 100 of his favourite things to eat, going into 40 recipes in depth, as well as telling some colourful stories from his childhood.
"Think of it as volume 1," he says. "You can't fit everything into just one book. It's the start of an Encyclopaedia Britannica of food." Like its author, the book is equally devoted to haute cuisine and street food.
"I'm not a snob," he says. "I didn't grow up on fine dining and I love everything. I love going to the shittiest part of the neighbourhood for a barbecue and then going to a three Michelin-star restaurant where you have to wear a tie. It's about experience. That's how you increase your knowledge of who you are."
Read more here.