For Anyone Who Still Can't Get Enough Nirvana…
With the 20th anniversary of Kurt's death coming up in a couple of weeks, there's been the attendant resurgence in interest about him and Nirvana in general.
For example, Charles R. Cross, one of Kurt's biographer and a Nirvana expert, says that he may have uncovered the origin of the roots of "Come As You Are." Apparently, the Morck Hotel in Kurt's hometown of Aberdeen, Washington, once had the motto "Come as you are" back in the 1940s.  The hotel–a pretty flea-bitten place–was one of the places where Kurt crashed in his teens when he says he was homeless.  The Hollywood Reporter has more on the Morck and one of the characters Kurt used to meet there.
Check out this postcard.  Note what it says in the description.
And speaking of gross living conditions, some photos of Kurt and Courtney's LA apartment c.1992 have been uncovered.  Keep in mind that they were living this way after Nevermind reached #1 on the charts and had gone triple platinum.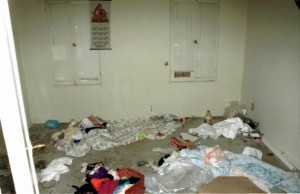 More photos at Stereogum.
Meanwhile, Kurt may not be dead after all.  Is that him with Tupac in this Dutch beer commercial?
http://youtu.be/6DVf4TifNkg