Canadian Music Fans Will Pay for Streaming Service If Not Too Costly
A little over half of Canadian teens and Millennials listen to music on their smartphones in a regular week. According to Nielsen, as music consumption moves more to mobile devices, especially for teens and Millennials, more music is being discovered by fans from online and app streaming services operated by AM/FM radio stations. However, traditional, "over the air" AM/FM stations are still the top way for Canadians, most notably Millennials, to discover new music.
Canadians also learn about live music events from the radio. Over half of music fans say that they hear about live events through ads and shows on the radio. This year alone, 35% of people aware of festivals have attended at least one, up 6% from last year. This shows that promoting festivals on-air is an effective way to get music lovers to buy tickets. However, teens discover music by word-of-mouth from friends and family more than any other way.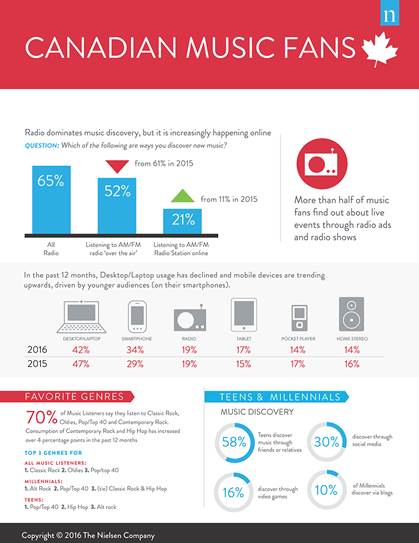 Contemporary rock and hip-hop have grown in their share of listenership by over 4% in the past year, becoming favourite genres for Canadians. According to Nielsen:
"[the] top three music genres for Millennials and teens (in no particular order) include Alternative Rock, Pop/Top 40 and Hip-Hop. Over the past year, their musical preferences are reflected in the popularity of local artists like Drake, Justin Bieber, Alessia Cara, Shawn Mendes and The Weeknd".
As listening on-the-go becomes more popular, listeners are spending more time using streaming services. The most important thing for Canadians when selecting a streaming service is the cost and how easy it is to use. Nine percent of all Canadians, and 16% of teens and Millennials, who currently do not pay for streaming say that they are likely to subscribe within half a year. Unsurprisingly, the top reason to not subscribe to a streaming service is the cost.
Interestingly, however, the increase in paid streaming is from non-white, male teens and Millennials. As Nielsen comments:
"In fact, 60% of those who are likely to subscribe to a paid streaming service in the next six months are male, and the majority fall into the Millennial age group (18-34). It appears that a greater exposure to live music events (attending festivals, concerts, etc.) helps motivate fans to pay for streaming".
Overall, there is opportunity for paid streaming services among young Canadian music fans, so long as the music library is good, it's easy to use, and the price is right.