How Important Is Streaming in the US Now? This Important.
If there was any doubt in your mind that we're moving towards a future where streaming is not the dominant way people will acquire music, give your head a shake.
Yes, Canada is way behind in the adoption of streaming music services, but we're slowly catching up. Meanwhile, the rest of the world has embraced the concept. In the US, revenue derived from streaming in the first half of 2014 nearly equals the amount of revenue coming from physical formats. See?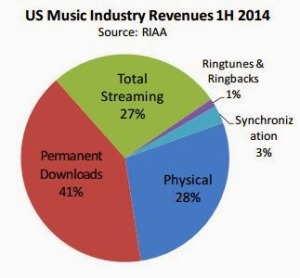 Note that this are music industry revenues, not musician revenues. That's a different story, of course.
Streaming isn't saving the industry yet (things are still down $3.2 billion from last year in the US)–but if the industry overlords are starting to love streaming money, you know in which direction we're all going.
(Via VVN, among other places.)