So How Are People Listening to Music in Cars Today? And Does the Type of Connectivity Matter?
Radio has been top dog when it comes to listening to music in the car for decades. That dominance is starting to erode, thanks to the gadgets we all carry around. Take a look at this data from Music Biz Consumer Insights (via RAIN) on what Millennials are doing–or in the case of radio, not doing.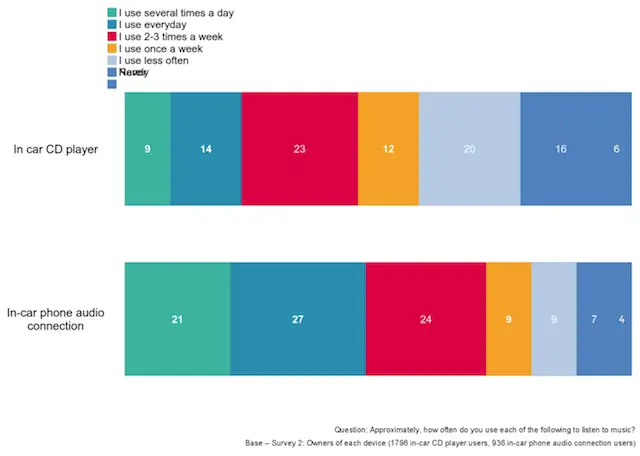 RAIN summarizes things:
For in-car listening, 75% of respondents said they listen to AM/FM radio. CD listening came in a distant second with 38%, while digital music files had 18% and streaming Internet radio had 15%. Podcasts secured just 6%.
Age has proven to be a distinguishing factor for many music trends, and the millennial respondents were more likely to consume digital sources in their cars. In the 20-24 age bracket, 29% listen to digital music files and 26% listen to streaming Internet radio. For the 25-34 group, those rates are 28% and 29%, respectively, while teens aged 15-19 posted 23% and 22%. Digital music files were somewhat common for the 35-44 group (26%), but that was the only time digital listening surpassed 20% for the demographics older than 35.
Full details here.
Meanwhile, the type of connectivity available in specific models is starting to sway consumer decisions. Jacobs Media looks at the situation in which Toyota has found itself.
If you're in the automotive industry, you have to hand it to Toyota. They're either the smartest car company on the planet or the dumbest.
That's because they're the only major automaker taking a pass on both the Apple CarPlay and Android Auto dashboard ecosystems. As the largest car company in the world, their decision is worthy of our attention.
[…]
But a deeper look into the comments that follow his commentary points to showroom turbulence for Toyota. Here's a sampling from some consumers who are pushing back against the Toyota decision. These comments are pretty indicative of what most had to say about both Apple and Android missing from the Toyota line of vehicles.
The full post can be found here.