Rock My World Canada, chapter 113: Jane's Party
[Mike Carr has created a catalogue/reference work featuring all kinds of Canadian rock and alternative releases from the past few decades. Check out his a massive volume on Canadian music history entitled Canadian Alternative & Indie Reference and Collector's Guide. It's an incredible discography of hundreds of bands. See below to see how you can help him achieve this.– AC]
Toronto-based pop-rock quartet Jane's Party – comprised of Devon Richardson, Tom Ionescu, Jeff Giles, and Zach Sutton – have just released "Casual Island". "Casual Island" began as a set of home studio demos inspired by Jane's Party's experience supporting Tom Odell's "No Bad Days" tour across Europe in 2016.
After returning home the band immediately called up producer Derek Hoffman (The Trews, Arkells, Elwins, Willa), and set up what would become the "Casual Island" sessions. Drummer Zach Sutton says, "for the four of us, writing and recording music has always been a collaborative process. Jane's party has shared stages with the likes of Arkells, LIGHTS, Blue Rodeo, Stars, The Trews, Sam Roberts Band, Lowest of The Low, Matt Mays, Tom Odell, Manic Street Preachers, and Lord Huron. – Jane's Party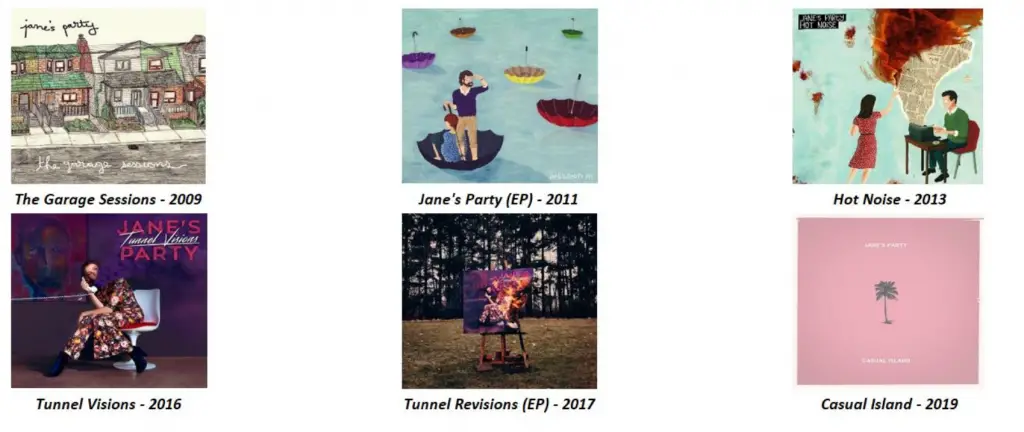 Find out more about this artist and hundreds of other Canadian artists in the softcover edition of Canadian Alternative & Indie Reference and Collector's Guide. Get your copy here. Follow Mike on Facebook and Twitter.
Help Mike continue his work by becoming a Rock My World Canada Patreon patron. Support Canadian music history!.