U2 Pulls It Off: Songs of Innocence, Track-By-Track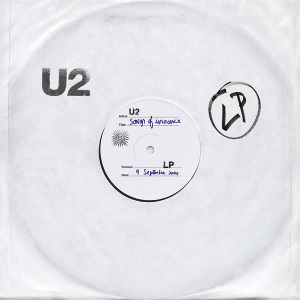 At the iPhone 6 launch in Cupertino, California today, U2 pulled off the big one. They performed a new song called The Miracle (of Joey Ramone) live and then, with Apple lead Tim Cook, gave away the album, "Songs of Innocence", to all iTunes subscribers. Everywhere.
Here's the track by track breakdown:
The Miracle (of Joey Ramone)
A nice cross of hard rock guitar, brilliant loud, live, crowd-worthy chanter. And obviously a grand tribute to the man and his band's influence on U2.
Every Breaking Wave:
This was a song that U2 performed towards the end of the 360 Tour. It has changed significantly from what was played then (you can listen to the original here). More upbeat tempo and a hopeful vibe to it.
California (There Is No End To Love)
A somber church bell opening that morphs into a chant of Santa Barbara (almost sounds like an ode to The Beach Boys). Heads off into a straight on rocker. "All you need to know is there is no end to love".
Song For Someone
I love the opening line "You've got a face not spoiled by beauty". A ballad but stronger. Classic build up U2 song. The band feels less tight and more real on this track. I think this might be a single down the road. Likely one live that would light up all those iPhones! Also a typical play to the religious side of the band "If there is a God, within and without".
Iris (Hold Me Close)
An obvious song for Bono's mother. Probably a song he wanted to write most of his life and maybe finally felt in a place to do it directly. "The star that gives us light has been gone awhile but is not an illusion. The ache in my heart is so much a part of who I am". The guitar in this almost sounds like a racing heartbeat.
Volcano
Cool vibe track. A step out of the ordinary. Great beat to it and a wealth of mixed emotions. Bits of a 50's sound mixed with electronics. Made me think of Vegas somehow. "Something in wants to blow". Yeah.
Raised By Wolves
Opening is a complete departure from expectations. "I don't believe any more". "5:30 on a Friday night, 33 good people cut down". An ugly view of the streets painted in blood. Not a hard rocker but a rocker and bloody good listen.
Cedarwood Road
Another great hard rocker opening! LOVE the guitar work on this one. A look at the dark side of town. Another good listen.  This one is dedicated to Guggi!  Note 10 Cedarwood Road is where Bono grew up!
Sleep Like A Baby Tonight
Keyboard opening that leads into Bono with some vocal effect that is interesting. Feels a bit like burlesque but not dirty. Blows into some cool Edge guitar riffs. "where there's no daylight there's no healing". "Tomorrow comes like a suicide". Some nice, weird falsetto work as well. Alternate palette of darkness and light.
This Is Where You Can Reach Me…
Knockers beat and seagulls crying. Very cool distorted keyboards. Duet at a minimum. Not sure it's with Edge though. Loving the weird vibe. A bit of selling your soul and the cost of it all.  This song is dedicated to The Clash's Joe Strummer!
The Troubles
Have to find out who's singing the opening! Female vocal (turns out it is Lykke Li!!!). A lot of talk of pain. Great listen. Not the usual hyper-slow album closer for U2. Expected an explicit breakdown of the Irish "Troubles". Nice take on more of a relationship and bad choices. Not what you'd expect at all.  My heart skipped a beat when I heard what sounded like a flash of Zooropa guitar there!  Check out this post-launch interview with Lykke Li here!