Yet another check on Ottawa Bluesfest 2022. This is part one of a report on Day 7.
[More from Ottawa Bluesfest with Ross MacDonald (photos) and Karen Coughtrey (text). – AC]
Opening on Day 7 of Ottawa's Bluesfest was American singer/songwriter Lucy Dacus. Although many in the crowd could be heard wondering who she was, it was immediately clear she had a group of dedicated fans in attendance and she drew a sizable crowd filling the tent.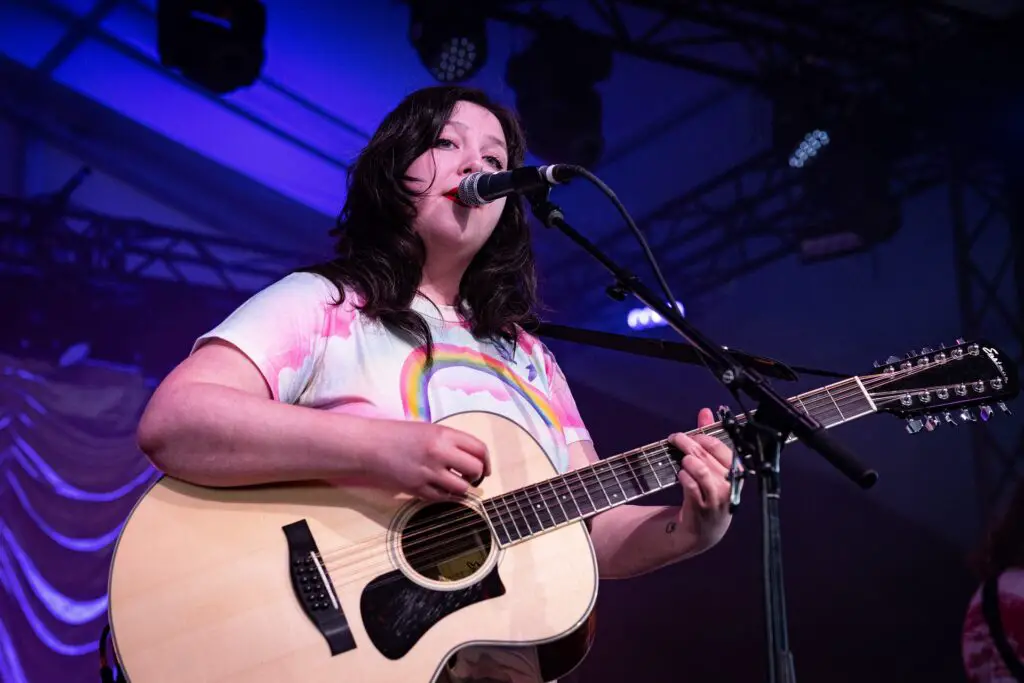 Lucy opened with 'First Time', a song off her latest album Home Video. The song includes the lyric "I can't go back to who I was before I met you", a sentiment likely shared by those identifying as her fans after discovering her music. 
Lucy had the crowd moving to her music and they sang along on songs 'Hot & Heavy', 'VBS', 'Partner in Crime' and 'Brando'. 'I Don't Want To Be Funny Anymore' , a song off her first album, was also clearly a fan favourite.
The stage was set with a series of lights on stands. The lights were like coloured ring lights, reminiscent of lights from a 60s game show or talk show with an outer ring of light and a centre bulb, they pulsed and changed colour frequently, giving the stage a sort of modern yet retro polka-dot vibe. Lucy herself was dressed in a shirt and pants in a variety of bright pastels featuring rainbows and clouds. "This is my first time out in this outfit. This is probably my gayest outfit, I usually like to wear black" she said before introducing "probably [her] gayest song", her new single (released back in February) 'Kissing Lessons'.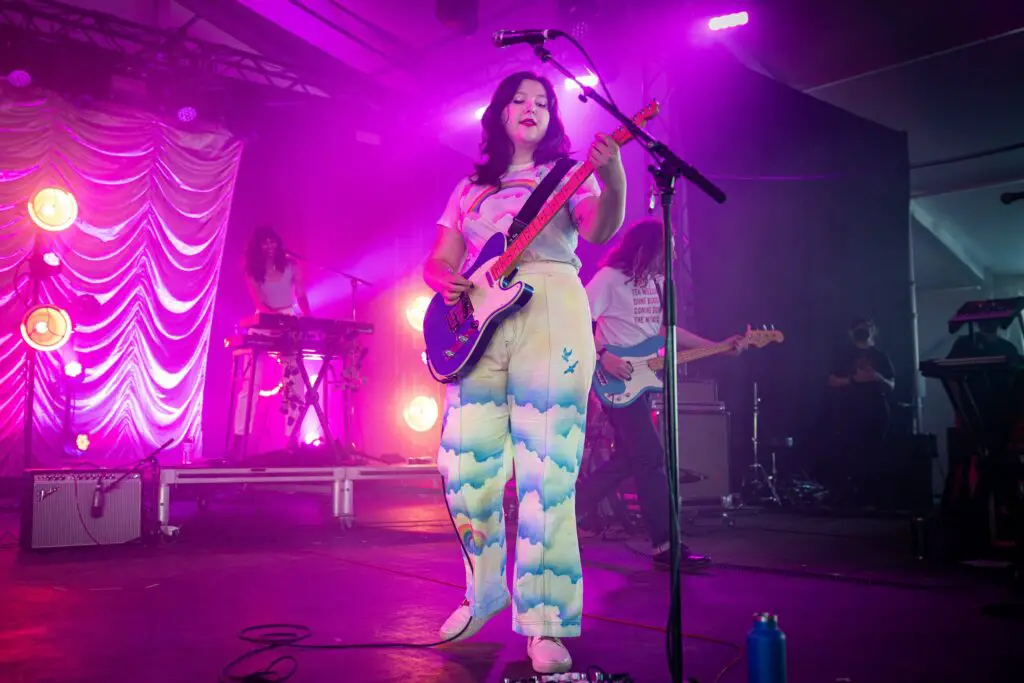 Lucy would finish her set with a fantastic cover of Bruce Springsteen's 'Dancing in the Dark' and a clear crowd favourite from her second album 'Night Shift'. "It's nice that you're sad about this being our last song. It's been a treat, until next time." she said and there is no doubt that she gained many new fans tonight who will be eagerly awaiting that next time.
Iconic Canadian band Crash Test Dummies headlined the Sirius XM stage, which was their first ever appearance at Ottawa Bluesfest. They hoped to be asked and it was clear they were a band many in Ottawa had waited years to see live as they drew a large crowd, the stage area was packed and overflowed beyond the tent where many more were watching on a giant screen. 
The band reunited in 2018 for a 25th-anniversary tour of their album God Shuffled his Feet. They would open their set with the title track of that album and the set featured most of the songs from that album including 'In The Days of the Caveman', 'Here I Stand Before Me', 'How Does a Duck Know', and 'I Think I'll disappear Now'.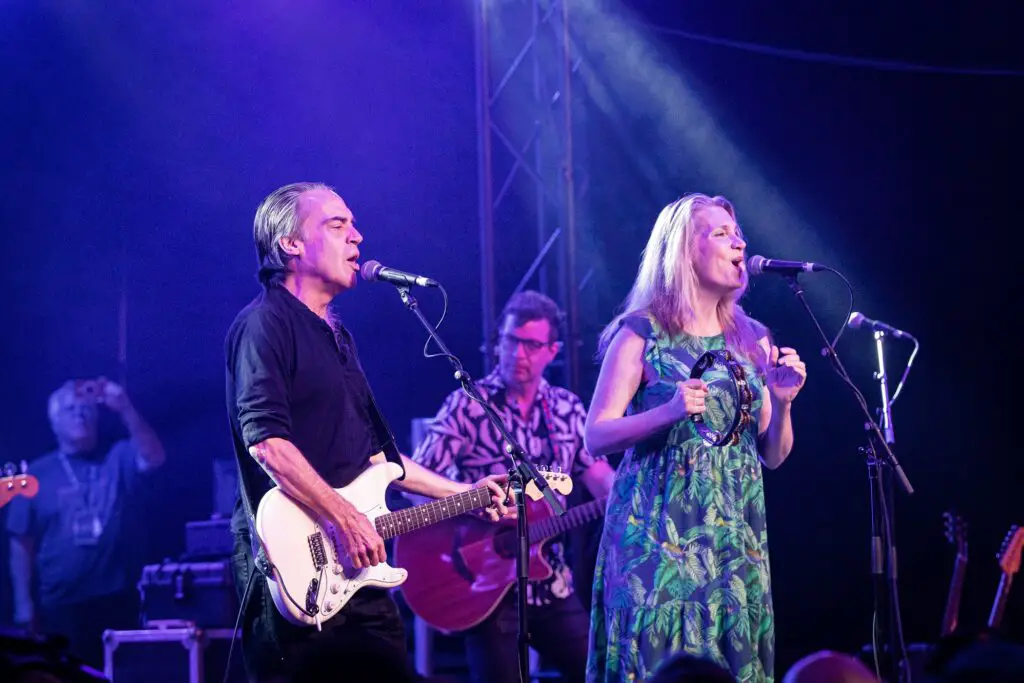 The band moved little around the stage and spoke little between songs but lead singer Brad Roberts did share a funny story of a woman he met who inspired the song 'Psychic' and his signature deep voice sounded as wonderful ever on their mega hit and definite crowd favourite 'Superman's Song'. The band also played other songs from that first album, including title track 'The Ghosts That Haunt Me', 'Androgynous', and 'Comin' Back Soon (The Bereft Man's Song)' which had the crowd clapping, jumping and dancing around. 
Ellen Reid who shares lead vocals on some songs and plays accordion on others shared that it was her birthday. The crowd obliged her by singing Happy Birthday and was rewarded with another favourite, the band's popular cover of the XTC song 'The Ballad of Peter Pumpkinhead'.
The main set ended on an energized note as the crowd enthusiastically sang along with 'Afternoons & Coffeespoons'. The band opened the encore with their beautiful slow song 'Heart of Stone' and ended it with their song that is most popular internationally 'Mmm Mmm Mmm Mmm' which Brad would end by running over to the drum kit to play the cymbals enthusiastically. The crowd swayed and sang and of course hummed along, making it the perfect ending to a wonderful performance.
A Journal of Musical Things had the pleasure of sitting down with Lucy Dacus earlier in the day to discuss her career, new album, activism, and what the future holds.
AJOMT: You come from a musical family, did you always know you'd do something music related as an adult?
Lucy: No, I knew that I would be playing music in general in my life, but I never thought it would be a job. My mom is an elementary school music teacher and she never encouraged "Do music as a job". She tried to give me piano lessons and I just wasn't picking it up and I never took guitar lessons so it's been more of a passion and it's a total surprise it's turned into a job.
AJOMT: How would you describe your music? And besides your family, who are your musical influences?
Lucy: I just love writing more than anything, it just so happens that I can sing. The lyrics are the big part. It's singer/songwriter but I don't really know what that genre means, it's a pretty wide genre. It's kind of indie rock and I try not to stick to any one genre too much. Influences weren't intentional but I think probably my biggest influence was Bruce Springstein because of my dad playing him so much when I was growing up. Also musical theatre because that's what my mom does. I don't think my music sounds like musical theatre but in theatre the songs have to move the plot forward so they always have to contain a message, have defined setting, and characters. I feel like in my songs I want to move the listener from one understanding to the other.
AJOMT: Who would you like to perform with or collaborate with?
Lucy: Oh gosh, maybe Tracy Chapman. I know that she doesn't do much anymore but I think she's incredible and her voice is so iconic and her songwriting is so poignant and visceral and cinematic. It would be amazing to work with her.
AJOMT: Your latest album is deeply personal. How does it feel having those stories out in the world for everyone to consume?
Lucy: It's been weird. It was harder than I thought it was going to be. I had a couple of really hard conversations with family and friends because the songs are fictional characters to everyone else but to the people that they're about, they know that it's about them. That's made all my relationships better for the songs  that I've been able to talk to the people about what they mean. It has been a very difficult process. At this point I'm just happy that other people connect with them. It makes me feel less alone in my experiences. I feel lucky that people relate.
AJOMT: How did your friends and family react to being in those songs? Were there any really difficult conversations?
Lucy: Some people reacted positively. There were a lot of either negative or difficult reactions. Some songs are really hard, 'Please Stay' is about someone I know that was suicidal and 'Thumbs' is about an abusive father. It's not bad things, both of those songs are about me wanting to be very caring towards people I love but they're not easy conversations.
AJOMT: You've performed on some pretty big stages, is there a particular performance of yours that stands out to you?
Lucy: What's funny is the answer is probably some of the smaller stages. The first time we sold out a show it was in San Francisco and I remember thinking "We sold out a show other than a hometown show'. We're from Virginia and to be on the other coast and to have strangers show up, it felt like such a huge thing. Also the first time there was a mosh pit was in Boston at The Sinclair. Since then in both cities we've played much bigger venues but those early hallmarks are the most special in my memory.
AJOMT: You're also in the group Boygenius, does one project influence the other?
Lucy: We talk all the time and we definitely influence each other. We show each other our demos for our own records. Phoebe [Bridgers] and Julien [Baker] were some of the first people to hear all the songs from Home Video. When we were on tour together as Boygenius in 2018 we were showing each other songs that ended up on Little Oblivions [album by Julien Baker] and Punisher [album by Phoebe Bridgers]. It does feel like I'm a really lucky person for having them as my counsel and cheerleaders and vice versa. 
AJOMT: You performed in Toronto and Montreal just recently and now you're in Ottawa, is this your first time performing in Canada? Any thoughts about Canada or words for your Canadian fans?
Lucy: We've been to Canada many times over the years and it's always great. We've played Calgary Folk Fest, Vancouver, Toronto, and Montreal. We've played Ottawa once before. I always really like being here. I like being able to speak a little bit of french. I'm not fluent, but I know enough to say a couple sentences and get around. The food is good, the people are nice, I hope we continue to come back.
AJOMT: You announced you'll be donating tips from the merchandise stand to the organization Fund Abortion Not Police, do you want to speak about that organization and why the cause is important to you?
Lucy: I was inspired by the band that was opening for us Camp Cope because I knew I wanted to donate to something and they have a shirt that the sales were going to Abortion Not Police. [That group splits] funds between localized abortion funds, and there are some that are run by indiegnous folk and some that make it easier for people for whom english is not their first language to navigate the US abortion resources. I think it's a really important cause and I like that that group in their title malignes the police's role in abortion rights. In the US I have friends who have been getting phone calls from local police departments asking for donations, which is ridiculous. The police are trying to get your money, not just from taxes but from donations. I lost faith in the government a long time ago. I do have faith in each other at this point and I know tons of people who work in abortion advocacy. It's bleak on the government level but they're going to keep happening so we should take care of each other as safely as we can.
AJOMT: What's next for Lucy Dacus?
Lucy: We're on tour for the next month and then we have two weeks off and then go to Europe. And then we have some tours we haven't announced yet. I'm writing a lot. I'm writing on this tour and whenever I have an idea. Hopefully the next record is in the oven.
AJOMT: Are you being inspired by current events?
Lucy: I would say not explicitly, [I don't want to write a protest song] but the general atmosphere of people losing hope is something I want to rail against as much as I can. Hope is kind of an illusion but it's also real and necessary, and so how can you help keep the hope alive and convince yourself and convince others that life is still beautiful and various and worth living? I guess yes [I am inspired by current events], but maybe not one-to-one of writing a song about abortion.