Celebrating 50 Years of "Paul is Dead"
What? You didn't know that Paul McCartney died in 1966 and was replaced with a lookalike imposter? Wake UP, sheeple!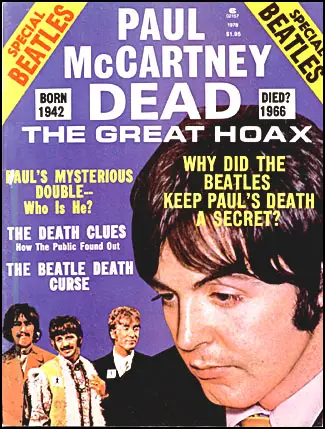 The story just celebrated its 50th anniversary this week. This is from Inverse.
On November 9, 1966, Paul McCartney was prematurely killed, the victim of a bizarre conspiracy theory. In many ways, the hoax was also the original crazy fan theory. Fifty years later, we know Paul is definitely alive — and still making music! — but in all the strange lore and mythology surrounding the Beatles, this theory is probably the most confounding. Here's a brief guide to understanding why Paul was thought to be dead, why we know he isn't, and why people still care.
The basics are as follows: Some fans thought that the Beatles actively put clues in their albums designed to fuel a conspiracy theory that McCartney had died in 1966 and was replaced by lookalike actor named William Campbell. While the conspiracy theory puts Paul's death in 1966, the theory first surfaced on October 12, 1969, one month after the official (and legally-binding) break-up of the band. Patient zero of the "Paul Is Dead" Theory was an American DJ named Russ Gibb of radio station WKNR-FM. Gibb claimed he got an anonymous phone call saying that Paul McCartney was dead, and actually had been dead for just under three years.
Read the rest at Inverse.